Pertamina Lowers Avtur Price Amidst Rising Airfares
By
Office of Assistant to Deputy Cabinet Secretary for State Documents & Translation &nbsp &nbsp
Date
16 Februari 2019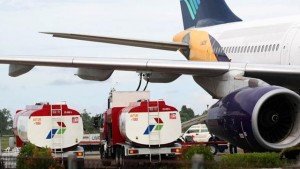 State-owned oil and gas company PT Pertamina has lowered the price of avtur (aviation fuel) starting Saturday (16/2) at 00.00 Western Indonesian Time.
The high price of avtur has been blamed for the hike price of domestic flights recently.
The published rate for avtur for Soekarno-Hatta airport has dropped from Rp8,210 per liter to Rp7,960 per liter.
"That figure is 26 percent lower compared to that of Singapore Changi airport's avtur price at Rp10,769 per liter as of 15 February 2019," Pertamina's Media Communication Manager of Arya Dwi Paramita said.
Arya went on to say that the new price is in line with the Decree of Minister of Energy and Mineral Resources Number 17 of 2019 on Basic Price Formula on Retail Selling of Avtur Distributed Through Aircraft Filling Depots.
According to Arya, Pertamina evaluates avtur price on a regular basis and adjusts it twice a month and the price in this period is lower compared to that in the previous period. The price adjustment, he added, is made by considering the average global oil price, the Rupiah exchange rate and other factors, such as the agreement between Pertamina and the airline itself.
Arya expressed hope that the new avtur price can be seen as Pertamina's support for the national aviation industry, which is also expected to bring a huge impact on other industries, including tourism. "Pertamina is committed to providing the best service for the Indonesian people, one of which is by providing avtur at 67 airports across the country," Arya said.
As previously reported, President Joko "Jokowi" Widodo on Monday (11/2) acknowledged that he had received many complaints regarding high price of domestic flight airfares. According to the President, the flight price hike was caused by the high price of avtur.
"Pertamina monopolizes the avtur market in Soekarno-Hatta Airport," the President said, adding there are only two solutions to address the problem, namely setting the avtur price with the same price as the global market or allowing other private companies to sell avtur in the country.
President Jokowi also said he has instructed related ministers to review and re-calculate avtur price, ensuring that the Government will immediately make a decision to address the problem. (EN/PR of Pertamina/ES)
Translated by: Estu Widyamurti
Edited by: Muhardi
Proofread by: M. Ersan Pamungkas