Pertamina, Saudi Aramco Agree to Continue Cilacap Refinery Development
By
Office of Assistant to Deputy Cabinet Secretary for State Documents & Translation &nbsp &nbsp
Date
19 Juni 2019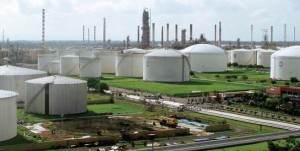 Indonesia's state-owned oil and gas company PT Pertamina and Saudi Arabian largest oil company Saudi Aramco have agreed to extend cooperation to revitalize the Cilacap Refinery.
"Pertamina and Saudi Aramco have agreed to continue the cooperation in preparing the development of the Cilacap Refinery," Minister of Energy and Mineral Resources Ignasius Jonan said after a meeting with Minister of Mineral Resources of Saudi Arabia (who also acts as Saudi Aramco Chairman) on the sidelines of the G20 meeting in Karuizawa, Japan, Sunday (16/6).
In the meantime, the Energy's Head of Communication for Public Information Services and Cooperation Bureau Agung Pribadi stated that the two companies have agreed to involve a reputable Financial Advisor as the third valuator to finalize the valuation and cooperation scheme.
"Both sides have agreed to appoint a valuator, then the valuators from both sides will choose a third valuator. This is a win-win solution for both parties," Agung said in Jakarta, Tuesday (18/6).
For the record, Pertamina's cooperation with Saudi Aramco in the Cilacap Refinery Development Master Plan (RDMP) which was initiated in 2014 has not yet been sealed because of the differences in the valuations of the refinery, known as Enterprise Value (EV).
The Joint Venture Development Agreement between Pertamina and Aramco is currently under way and is supposed to expire at the end of June this year. However, this agreement will be extended until the end of September this year
Furthermore, the Indonesian Government will also form a Joint Team consists of Ministry of State-owned Enterprises, Ministry of Energy and Mineral Resources, Ministry of Finance, and Pertamina, accompanied  by the Finance and Development Supervisory Agency (BPKP) and the Deputy Attorney General for Civil and Administrative Affairs (Jamdatun) to ensure that all processes are carried out in accordance with the aspects of GCG (Good Corporate Governance) and applicable laws and regulations.
The development of the Cilacap Refinery is part of the 6 RDMP and New Grass Root Refinery (NGRR) projects to increase Pertamina's fuel production capacity, from currently around 1 million barrels per day to around 2 million barrels per day.
The other five projects are Balikpapan RDMP, Balongan RDMP, Dumai RDMP, Tuban NGRR, and Bontang NGRR.
In addition to increasing refinery capacity, the products produced in the upgraded refinery will also be of better quality and more environmentally friendly as required under EURO V standard. (Ministry of Energy and Mineral Resources PR/ES)
Translated by : Fairuzzamani Inayatillah
Edited by : Estu Widyamurti, M. Ersan Pamungkas