Police Ban Rally Around MK Building During Final Ruling Announcement
By
Office of Assistant to Deputy Cabinet Secretary for State Documents & Translation &nbsp &nbsp
Date
26 Juni 2019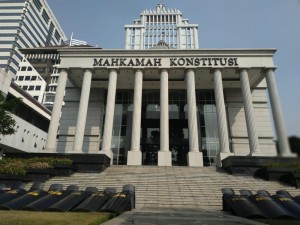 Police ban rallies around Constitutional Court (MK) building during the announcement of the final ruling on Presidential Election dispute case on Thursday (27/6), according to Coordinating Minister for Political, Legal, and Security Affairs Wiranto.
"We will not give permission to the people to hold rallies around the Constitutional Court building. If we still find any rallies, it means they are done without permit," Wiranto told reporters in Jakarta, Wednesday (26/6).
Since there will be no permit issued to organize any rallies, the police have the rights to disperse them as mandated by the laws, he added.
Regarding the possibility of some people who will stage rallies anyway, Wiranto said the rallies may be sponsored by certain people; thus, the security apparatus will go after the sponsor.
As previously reported, the Constitutional Court has decided to hold a plenary session to announce the final ruling regarding the Presidential Election dispute case on Thursday (27/6) at 12.30 Western Indonesian Time, or one day behind the initial schedule.
The Constitutional Court's Head of Public Relations and Home Affairs Cooperation Fajar Laksono Soeroso said that the decision is based on the Court's Consultative Meeting of Judges (RPH) on Monday (24/6).
"The announcement of the ruling is pushed forward before the initial schedule which was on Friday (28/6) because Panel of Judges believe that the ruling is ready to be announced on Thursday (27/6)," Fajar said in Jakarta, Thursday (25/6). (Constitutional Court PR/ES)
Translated by : Rany Anjany Subachrum
Edited by : M. Ersan Pamungkas