Power in Tsunami-Hit Areas Restored, Gov't Says
By
Office of Assistant to Deputy Cabinet Secretary for State Documents & Translation &nbsp &nbsp
Date
28 Desember 2018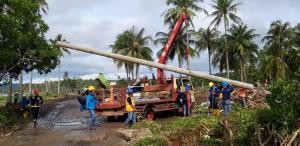 Government's emergency response team and state-owned electricity company PLN have restored electricity service and electricity infrastructure in areas ravaged by the Sunda strait tsunami.
"Five days after the tsunami hit Banten and Lampung regions, we received a report that technical restoration of electricity infrastructure in the affected areas has reached 100%," Head of Bureau of Communication, Public Information Services and Cooperation of Ministry of Energy and Mineral Resources said in Jakarta, Thursday (27/12).

For the record, out of 248 electrical grids in Pandeglang, 243 of them have been restored and the rest were supported by power generators or located in uninhabited areas. The joint team has also restored electric power distribution in Carita, Wisata and Labuan Kota and some isolated areas like Panimbang Kalicaah dan Sumur.
In the meantime, the joint team has restored all damaged electricity infrastructure in Lampung. The system is 100% ready and the distribution to households is underway. The work is supported by PLN Customer Centers of Kalianda, Sidomulyo, Sutami and Tanjung Karang that have restored 22 utility poles.
The PLN has also distributed 43 power generators to disaster-affected areas in Banten and 2 generators to affected areas in Lampung.
(Tim Komunikasi ESDM/EN)
Translated by: Ridwan Ibadurrohman
Edited by: Ersan Pamungkas