President Jokowi Addresses Papua as One of Development Priority Areas
By
Office of Assistant to Deputy Cabinet Secretary for State Documents & Translation &nbsp &nbsp
Date
21 Maret 2023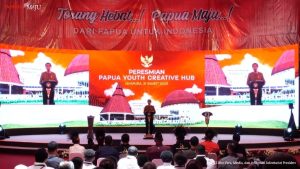 The Government is currently pushing for Indonesia-centric development in which Papua is one of the development priority areas, President Joko "Jokowi" Widodo has said.
"Once again, I want to say that Indonesia's development is now not Java-centric, but Indonesia-centric. And, the land of Papua is prioritized for the development," the President said when inaugurating the Papua Youth Creative Hub, in Jayapura city, Tuesday (03/21).
The President also said that several developments have been carried out in Papua, such as Trans Papua Road and border road construction, airport construction and revitalization, and border area and cross-border post (PLBN) development.
"We have constructed 3,462 kilometers of Trans-Papua Road and 1,098 kilometers of border roads in Papua, as well as the 1.3-kilometer Youtefa Bridge in Jayapura, Domine Eduard Osok Airport in Sorong. We also revitalized the terminal. We built an airport in Wamena, Jayawijaya. We also built cross-border posts in three locations, as I recall in Skouw, Sota, the last in Yetetkun, in Boven Digoel.  We have completed them all," he said.
Furthermore, the Head of State invited the Papuan community to participate in overseeing the development in Papua. The President said that from 2014 to 2022, the budget allocation from the central, provincial, and regency/city governments for Papua's development reached Rp1,036 trillion.
"I appeal to the people in the Papua to supervise this process. Keep an eye on it. So, it can be completed. Be very careful about this because corruption is a threat for all provinces in the development of our regions. Once again, I ask you to monitor and keep an eye on it, because we have spent a lot of money [for the development]," he said.
Afterward, President Jokowi is scheduled to visit the old Youtefa Market to inspect the commodity prices and distribute social assistance to the traders.
Later in the afternoon, the President is slated to inspect the food estate in Keerom regency. (BPMI of Presidential Secretariat/AIT/TGH/UN) (FI)