President Jokowi Applauds BNPB's Role in Mitigating Disasters in Indonesia
By
Office of Assistant to Deputy Cabinet Secretary for State Documents & Translation &nbsp &nbsp
Date
3 Maret 2021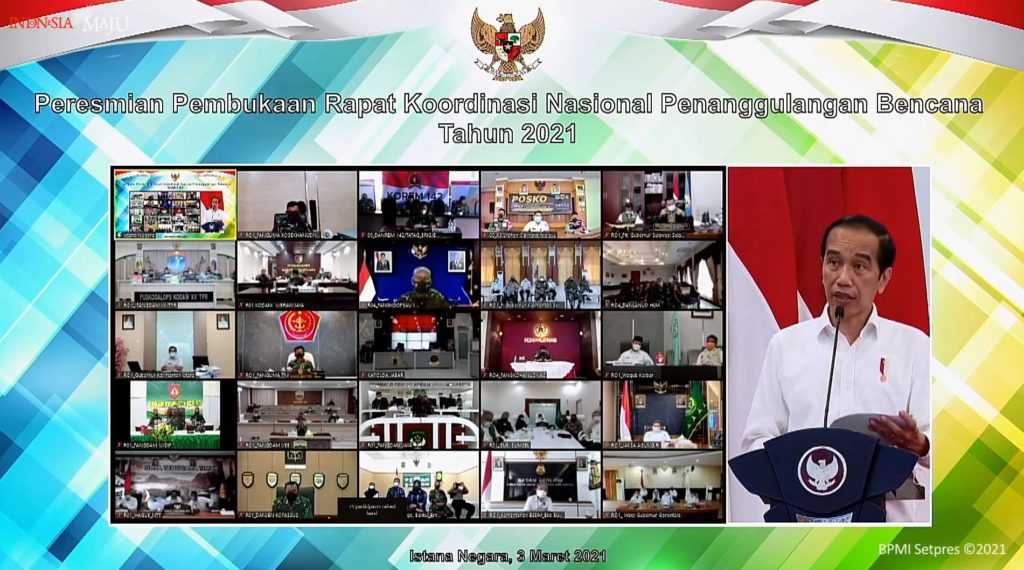 President Joko "Jokowi" Widodo applauded the National Disaster Mitigation Agency (BNPB) for the role it has played in mitigating several disasters that hit Indonesia.
"On this auspicious occasion, I would like to deliver my highest gratitude and appreciation to the BNPB for their dedication in helping mitigate and resolve the crisis" the President said in his remarks during the opening of the National Coordination Meeting on Disasters Mitigation 2021, on Wednesday (3/3), at the State Palace, Jakarta.
The President added that last year, Indonesia has faced several disasters; natural disasters and unnatural disaster, namely COVID-19 pandemic.
To tackle this unprecedented disaster, he said, it required handling from both health and economic aspects in a parallel manner.
"(The scope of disaster) is not only on a regional, national scale, but on a global scale, with more than 215 countries sharing the same experience. Thus, we must work faster, in more innovative ways, as well as collaborate with all sides, with other countries, and international organizations," he stated.
He went on to say that experience in facing the pandemic must be seized as a momentum to strengthen the country's resilience in tackling all disasters, considering Indonesia is among the 35 countries with the highest disaster risk in the world.
On that occasion, President Jokowi also emphasized the importance of mitigation and prevention measures as the key to minimizing disaster risks.
"I have mentioned about the aspect of prevention over and over again, don't be late in taking action!  Nevertheless, this doesn't mean that we put aside other aspects of disaster management. We just cannot take actions only when a disaster hits us," he said.
For this reason, the President ordered the relevant officials to prepare disaster anticipation measures in a planned and detailed manner. National policies and regional policies established must be sensitive to disaster vulnerability, he added.
The President further said that policies and planning, including spatial planning will be made by taking into account disaster vulnerability aspects which are based on Disaster Management Master Plan (RIPB) for the 2020-2024 stated in Presidential Regulation Number 87 of 2020. This will be followed by audits and management of policies and spatial planning on the ground. (FID/UN) (RAS/MUR)