President Jokowi Asks SOEs' Holdings to be Set Up Immediately
By
Office of Assistant to Deputy Cabinet Secretary for State Documents & Translation &nbsp &nbsp
Date
25 Januari 2017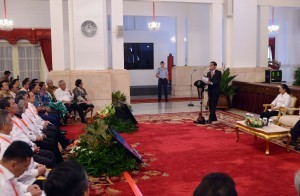 Although the world is really volatile, President Joko 'Jokowi' Widodo invited the board of directors of State-Owned
Enterprises (SOEs) to be optimistic to see the future in achieving Indonesia's economic growth amid global economic slowdown."The most important thing is how to anticipate the rapid changes in a different way; out of the comfort zone," the President said when delivering his briefing at the opening of Executive Leadership Program (ELP) for the board of directors of SOEs, at the State Palace, Jakarta, Wednesday (25/1) afternoon.
Therefore, the President gave a task to take care of SOEs' holdings that must be immediately executed. "It should be carefully calculated and obey the Law," the President said.
According to the President, in the future, the issues of management control, supervision, efficiency, and financial load should be taken into account. "Don't let a good SOE gets burden from a bad SOE," the President said.
The President admitted that holdings will create a leap because the capital of the companies will be bigger and easier to get fund. Thus, the President suggested to involve a number of institutions. In addition, the process should be opened for public so that people can give positive inputs for the improvement of SOEs. "I am optimistic SOEs will be better but must be careful," the President affirmed.
A lot of Opportunities
Regarding the issues related to business, President Jokowi said that at the moment, there are a lot of opportunities that have never been thought before. For example, no one interested in BPO (Business Process Outsourcing) which in the Philippines, its turn over can reach US$25 billion per year and accomodate 130,000 young workers.
The President further said it does not mean Indonesia must follow them because there are still a lot of opportunities in other business sectors. Sadly, no one has a thought to bring animation as well as design services to enter international business.
"We should start to think about it. Don't just stick to conventional businesses, while there are a lot of new promising business sectors. It must be initiated. I think SOEs have the opportunity to expand its business to these sectors," the President stated.
Regarding banking sectors, President Jokowi told all directors as well as chairmans of the board to make sure that banking services touch small and medium businesses, farmers, fishermen, and the people in villages.
In regards to governance, the President aksed all SOEs to be careful not to get into trouble, whether the managing directors, board of directors, or other employees."All of you must be careful because it is the era of openness. You make a mistake now, it can be revealed five or ten years later. However, if you don't do something wrong, don't be afraid," the President said.
The opening, that was attended by all board of directors of SOEs, was also attended by Coordinating Minister for the Economy Darmin Nasution, Minister of State-Owned Enterprises Rini Soemarno, Cabinet Secretary Pramono Anung, Minister of Finance Sri Mulyani Indrawati, Minister of Public Works and Public Housing Basuki Hadimuljono, and Minister of Marine Affairs and Fisheries Susi Pudjiastuti. (DND/JAY/ES)(MMB/YM/Naster)