President Jokowi Attends National Teachers' Day Celebration
By
Office of Assistant to Deputy Cabinet Secretary for State Documents & Translation &nbsp &nbsp
Date
1 Desember 2018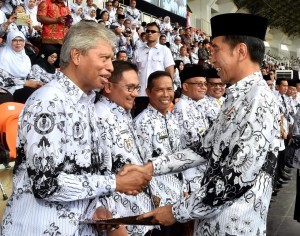 President Joko "Jokowi" Widodo attended the peak of the 2018 National Teachers' Day celebration and the 73rd Anniversary of the Indonesian Teachers Union (PGRI) at the Pakansari Stadium, Bogor Regency, West Java, Saturday (1/12).
"I am proud to stand here respecting a very noble profession, educators of the nation's children. I am proud to be standing here celebrating the birthday of the PGRI," President Jokowi said in his remarks.
The President also expressed his gratitude to all teachers in Indonesia and the PGRI for maintaining the morals of the nation's children by teaching character and broadening the horizon of knowledge.
"Happy National Teacher's Day. Happy 73rd birthday of the PGRI," President Jokowi said.
Before the audience, President Jokowi emphasized that in 2019, the Government will shift the focus of their program to human capital development. According to him, the quality of Indonesia's human resources must be improved in order to compete with other countries.
"Our human resources must be able to face and take advantage of opportunities in the world and fast-changing technological developments nowadays," the President said, adding that the role of the teachers will be crucial.
On the occasion, the teachers were asked to improve their professionalism in order to become the 'agents of transformation' to develop the country's human capital.
Furthermore, the President said that in the midst of a fast-changing world, teachers are also expected to be able to play more roles. So, they are not only teaching, but also managing students' learning process. Teachers are required to be more flexible, creative, attractive, and more fun for students.
"Our youth now are able to learn independently through the help of technology," President Jokowi said.
However, the teachers' role will never be replaced. "Teachers cannot be replaced by any sophisticated machine. Teacher is a noble profession that shapes the character of the nation's youth so they have a positive attitude, they are tolerant to others, and they hold good values. It is the teacher who fosters social empathy, builds imagination and creativity, and strengthens the spirit of our nation's unity," the President said.
Also attending the event were Minister of Education and Culture Muhadjir Effendy, Coordinator of Special Staff to the President Teten Masduki, Deputy Governor of West Java Uu Ruzhanul Ulum, and Bogor Regent Nurhayanti, as well as the General Chairman of PGRI's Executive Board Unifah Rosyidi. (BPMI/EN)
Translated by: Galuh Wicaksono
Edited by: Mia Medyana