President Jokowi Calls for Equitable Welfare at AIPA General Assembly
By
Office of Assistant to Deputy Cabinet Secretary for State Documents & Translation &nbsp &nbsp
Date
7 Agustus 2023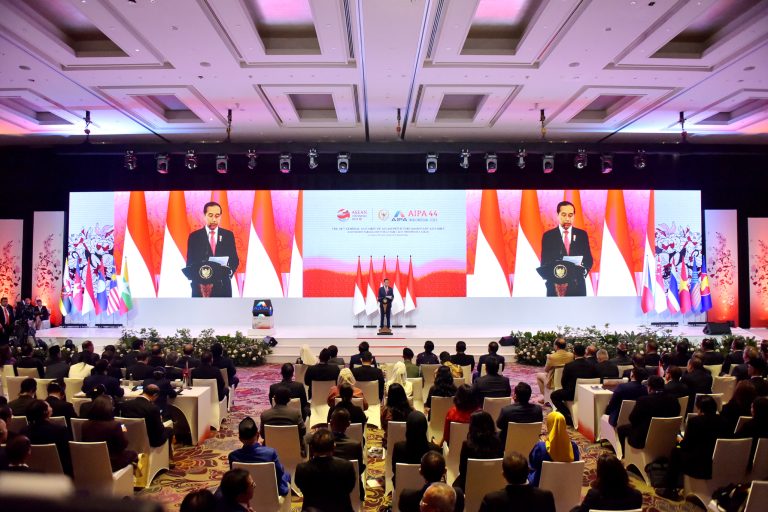 President Joko "Jokowi" Widodo on Monday (08/07) opened the 44th General Assembly of the ASEAN Inter-Parliamentary Assembly (AIPA) at the Fairmont Hotel, Senayan, Jakarta.
In his remarks, the President said that parliaments reflect the voice of the people. Therefore, the aspirations of the ASEAN people must be represented and their interests must be fought for.
"We must jointly fight for the equitable welfare for our people," the President said.
The President also said that he was grateful because in the midst of world uncertainty, ASEAN's economic growth remained stable, adding that the Organization for Economic Cooperation and Development (OECD) has stated that Southeast Asia is one of the drivers of world economic growth.
"As chair of ASEAN, Indonesia aims to make the ASEAN region remain the center of world economic growth, as the epicenter of growth. Therefore, ASEAN economic integration must be strengthened, trade barriers with ASEAN partners must be removed, and equal and mutually beneficial economic cooperation must be improved," the President said.
President Jokowi went on to say that the European Union-ASEAN Business Sentiment survey involving 600 European Union private sectors showed that 63 percent of respondents believed ASEAN to be the region with the best economic opportunities, while 80 percent of them saw ASEAN as an important region and 84 percent said they wanted to increase trade with ASEAN.
"The survey shows that the trust in ASEAN is very high, and it is our duty to make the best of it to develop a prosperous Southeast Asia," the President said.
President Jokowi also highlighted the importance of the support from parliaments in ASEAN to achieve the goal.
For the record, House of Representatives (DPR) of the Republic of Indonesia hosted the 44th AIPA General Assembly from 5 to 10 August 2023. The AIPA General Assembly is held with the theme of 'Responsive Parliaments for a Stable and Prosperous ASEAN'.
(FID/UN) (RI/LW)