President Jokowi Calls on Students to Master Science, Tech to Support Indonesia's Transformation
By
Office of Assistant to Deputy Cabinet Secretary for State Documents & Translation &nbsp &nbsp
Date
30 Agustus 2023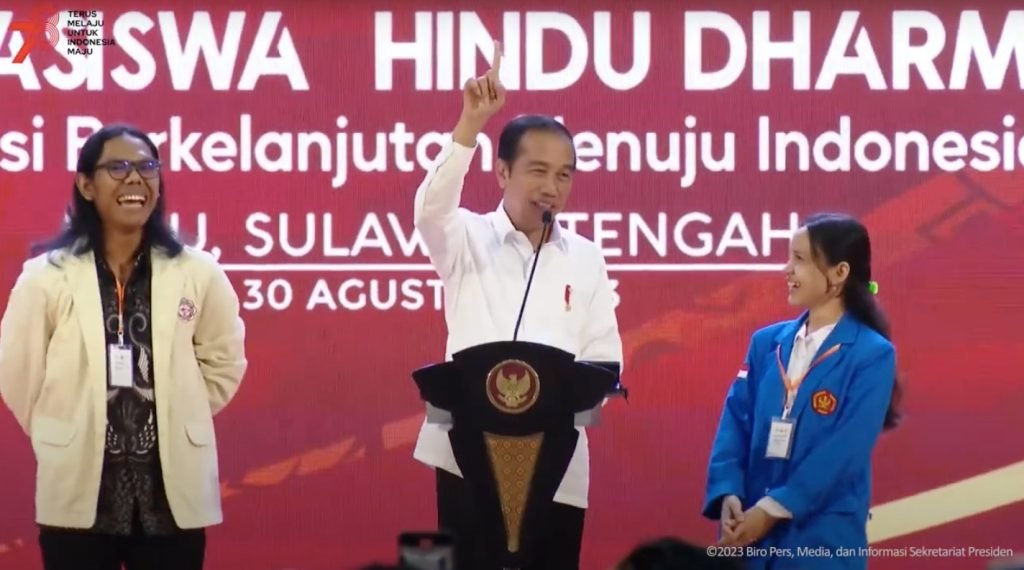 President Joko "Jokowi" Widodo Wednesday (08/30) inaugurated the 13th National Congress of the Indonesian Hindu Students Association (KMHDI) at the Tadulako university in Palu city, Central Sulawesi province.
On that occasion, President Jokowi encouraged all students to master science and technology in order to support Indonesia's transformation towards a green economy.
"In order to support the momentum of transformation towards a green economy, I call on all KMHDI members to prepare yourselves, learn about [green economy]. Do learn about carbon trading, do learn about the carbon market, do learn about climate entrepreneurship, do learn about waste recycling, and do learn about battery technology," the President said.
The Head of State also asked higher education institutions to cope with global rapid changes including the development of green economy, while underscoring that innovation must be carried out.
According to the President, almost every country in the world look forward to a green economy to reduce the impact of climate change.
"Global economy is currently transforming towards a green economy. Financing, funding are now prioritizing for green industries. The use of energy is also transforming towards a green energy. [All efforts are being carried out] because we all want to reduce the impacts of climate change," he added.
President Jokowi went on to say that the transformation towards a green economy presents both challenges and opportunities for Indonesia, which has significant potentials including geothermal energy and water resources.
"We have a potential of 434 thousand (megawatt) green energy. We have a potential of 24 thousand megawatt of geothermal energy. From 4,400 rivers we have, a potential of hydropower energy reaches 95 thousand megawatt. We have a greater potential form solar energy, which reaches 169 thousand megawatt. We also have tried wind power energy in several provinces in Sulawesi island. It recorded a good result. A potential of wind power energy reaches 68 thousand megawatt. With all potentials we have, we can attract investments," the President said.
In addition to the potentials, a green industrial park province is currently being constructed in North Kalimantan. The 30 thousand hectare-area is supported by hydropower energy from Kayan river in the region.
President Jokowi underlined that the potentials will serve as a strength of Indonesia, considering that other countries do not have the same potentials.
"To that end, it is our collective responsibility to always remain consistent with the national vision, especially the tactical vision of a grand strategy in competing with other countries," he remarked. (TGH/UN) (AP/LW)