President Jokowi Congratulates Two Indonesian Scientists for Gaining World Recognition
By
Office of Assistant to Deputy Cabinet Secretary for State Documents & Translation &nbsp &nbsp
Date
20 Desember 2020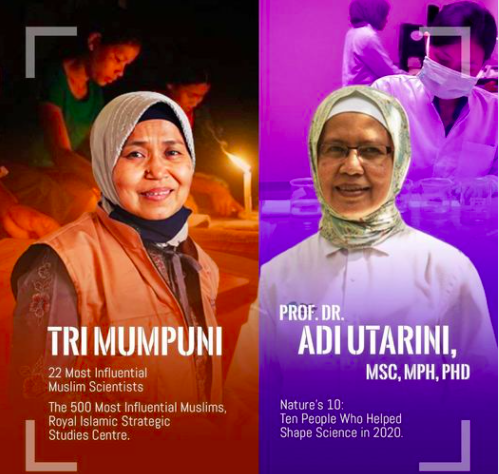 Two Indonesian scientists have gained world recognition for their achievements in the scientific field.
"Good morning, I would like to announce a good news about the world's recognition of the achievements of two Indonesian scientists Mrs. Adi Utarini and Mrs. Tri Mumpuni," said President Joko "Jokowi" Widodo on his Facebook account, Sunday (20/12).
Adi Utarini is listed in the "Nature's 10: Ten People Who Help Shape Science in 2020" from the science journal Nature.
Meanwhile, Tri Mumpuni, Director of the Institute of Business and Social Economics (IBEKA), is among the 22 Most Influential Muslim Scientists listed in "The 500 Most Influential Muslims" published by the Royal Islamic Strategic Studies Center.
Adi Utarini is leading a pioneering trial of a technology that can help eradicate dengue fever, a disease that has affected up to 400 million people worldwide each year.
"Adi Utarini and her team have succeeded in reducing cases of dengue fever by 77 percent in several major cities in Indonesia," said President Jokowi.
Meanwhile, Tri Mumpuni has participated in developing community independence in remote areas through a micro hydro power plant (PLTMH). To date, the IBEKA has built at least 65 PLTMHs in remote villages in numerous areas of the country.
The IBEKA is a facilitator that uses the micro hydro development approach to build people's social capital.
"I am proud of and highly appreciate the achievements and contributions of Mrs. Prof. Adi Utarini and Mrs. Tri Mumpuni. I hope their achievements will serve as an example and inspiration for Indonesia's young generation to be more active in pursuing science and make a real contribution for the advancement of human life," the President said. (UN) (EST/EP)