President Jokowi: Dispose Presumption That the World Economy Can Only be Resolved by IMF and World Bank
By
Humas &nbsp &nbsp
Date
23 April 2015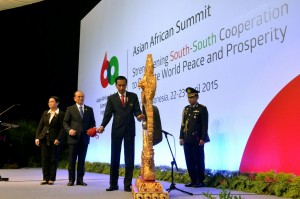 On the occasion of giving a speech at the opening of the 60th Asian-African Summit (KAA), at the Jakarta Convention Center (JCC), Wednesday (22/4) morning, President Joko Widodo also address the issue injustice of the world economic order.
According to the President, currently, only 20 percent of the country can enjoy the wealth, while the rest did not enjoy the wealth or equilibrium. He mentioned that there are 20 rich countries. While as many as, 1.2 billion people are helpless in poverty.
Rich countries, said President Jokowi, as has superior position and determine the global economy. Therefore, President Jokowi called that needs to be reform of the global financial architecture, by eliminating state domination over other countries.
Global financial reform, continued the President Jokowi, should provide recognition and space for new economic powers, and discard the notion that the World Bank, the International Monetary Fund (IMF), and the Asian Development Bank (ADB) can only resolve the world's economic problems.
"The view that says that the world's economic problems can only be resolved by the World Bank, IMF and ADB, is outdated view that needs to be thrown away," President Jokowi said.
The President said that the management of the world economy cannot be left only to the three international financial institutions, and the Asian and African countries are required to build a new world economic order that gives the opportunity for new economic powers.
"We are urging the global financial architecture reform to eliminate the domination of the state over other states," President Jokowi said.
"Indonesia is ready to cooperate with all parties to achieve the noble ideals," Jokowi said.  (Humas Setkab/ES)