President Jokowi Encourages to Promote Domestic Products
By
Office of Assistant to Deputy Cabinet Secretary for State Documents & Translation &nbsp &nbsp
Date
19 Desember 2017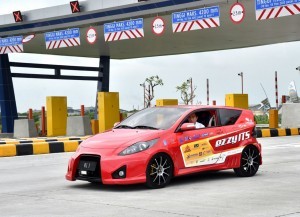 President Joko "Jokowi" Widodo tested drive a red electric car made by Surabaya's 10 November Institute of Technology (ITS) students on a newly-inaugurated Surabaya-Mojokerto (Sumo) Toll Road, Surabaya. The President rode on "Ezzy II" car that only consumes 20 kWh per 130 km.
"I think it is pretty good for a new product," President Jokowi said about the electric car.
President Jokowi asserted that generally the car operates well even though there are some minus points. Before the test drive, Director of Centre for Science and Technology and Automotive Control at ITS Muhammad Nur Yuniarto has informed about the minus points to the President.
The minus is something reasonable considering that other countries need 40 to 50 years to reach the market's standard, the President said.
President Jokowi admitted that it is not an easy task to take the next step. "The hardest part is to design the product, set the price to enter the market, and to compete with other brands which have been on the market," the President added.
However, President Jokowi will continue promoting various products of Indonesia's young generation to enter the industry and to have competency.
"We will encourage them so that their products  can enter  production process," the President concluded.
(BPMI/EN) (RAS/MMB/YM/Naster)