President Jokowi Encourages Utilization of Infrastructure Development to Boost Economy
By
Office of Assistant to Deputy Cabinet Secretary for State Documents & Translation &nbsp &nbsp
Date
31 Maret 2023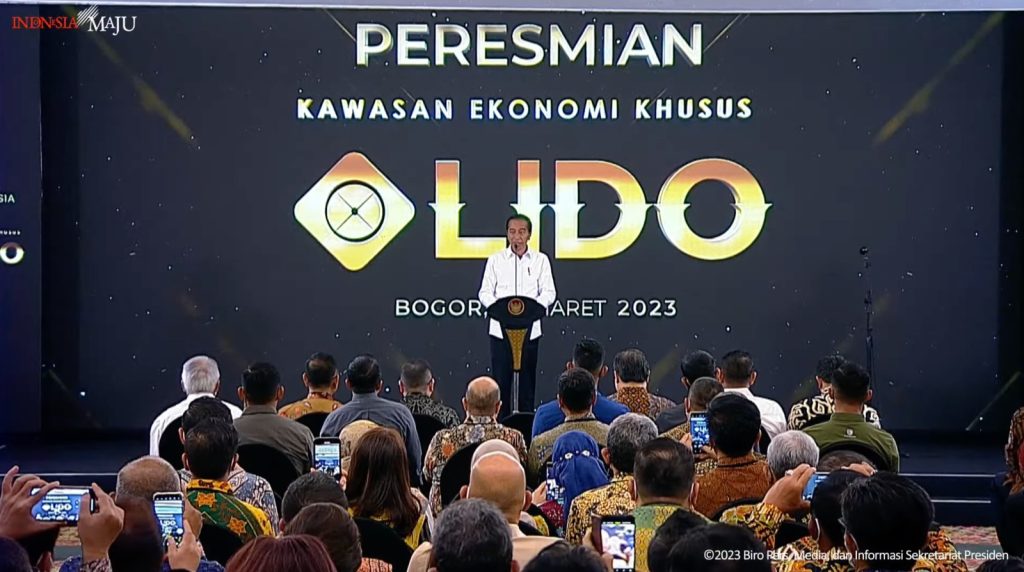 President Joko "Jokowi" Widodo on Friday (03/31) inaugurated Lido Special Economic Zone (SEZ) in Bogor regency, West Java province. The SEZ, which is owned by entrepreneur Hary Tanoesoedibjo, is expected to increase economic value for private sector.
In his remarks, the President expressed his appreciation for the completion of the Government's infrastructure projects that can be used by private sectors to generate economic value, including Jagorawi Toll Road and Bocimi Toll Road that links Lido SEZ to neighboring cities including the capital city of Jakarta, Bogor, Ciawi, and Sukabumi.
"Mr. Hary Tanoe really used the connectivity of Jagorawi (Jakarta-Bogor-Ciawi) Toll Road and Bocimi (Bogor-Ciawi-Sukabumi) Toll Road for Lido Special Economic Zone. It means toll roads also have economic value," he said.
He went on to say that several toll roads in the islands of Java, Sumatra, Kalimantan, and Sulawesi also improve connectivity of that regions to economic hubs such as industrial zones, agricultural areas, plantation areas, and tourist areas.
"Connect it [the roads] with industrial zones; connect it with agricultural area, plantation areas, to bring maximum value of benefits as we desire. Connect it also with tourist areas," he said adding that Lido SEZ will be supported with several facilities and tourist attraction.
He said that the SEZ is situated between Mountain Pangrango, Mountain Gede, and Mountain Salak. The beautiful scenery and attraction are expected to attract more people to visit Lido SEZ rather than going abroad.
"There are 11 million of Indonesian citizens who travel abroad for holiday. If we can take half of them, they will not spend foreign exchange to other countries. This is what the Government hopes for, namely encouraging private sector to utilize infrastructure development to generate economic value," he concluded.
For the record, Lido SEZ has an area of 1,040 hectares with a total land area of 3,000 hectares. A number of facilities have also been built in this area, including a theme park, technopark and data center, movie land, lido music & art center, retail, dining and entertainment area, lido world garden, lido hotel and resort extension, golf club, golf course, and other facilities and infrastructure. (TGN/UN) (RAS/MUR)