President Jokowi Hopes People Flock to Ride LRT to Ease Congestion, Pollution
By
Office of Assistant to Deputy Cabinet Secretary for State Documents & Translation &nbsp &nbsp
Date
28 Agustus 2023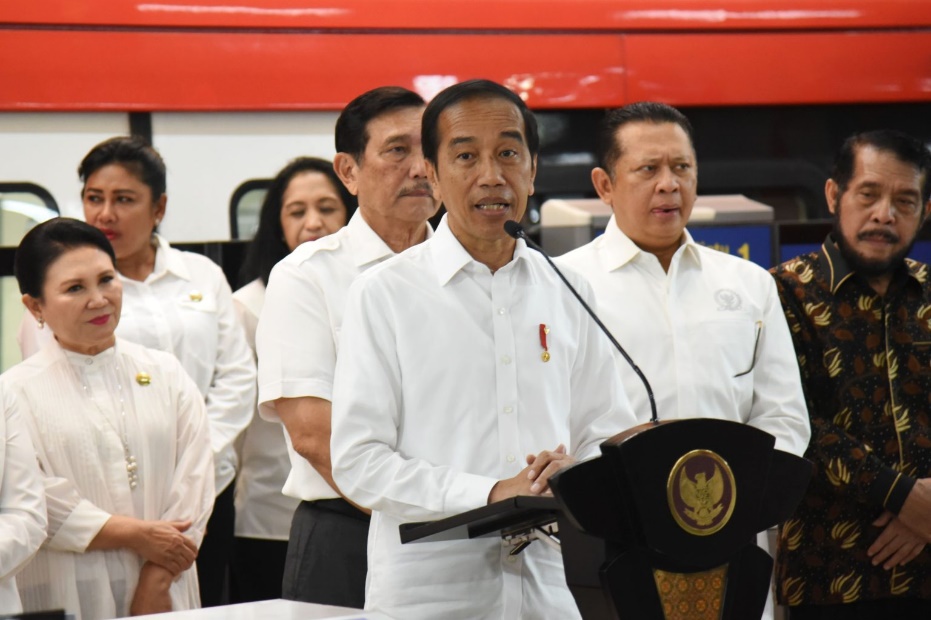 President Joko "Jokowi" Widodo expected that people in the Jakarta, Bogor, Depok and Bekasi area can flock to take advantage of the Jabodebek Light Rail Transit (LRT).
"We hope that people will flock to ride the LRT, both those from Cibubur and its surroundings and Bekasi and its surroundings, so that we can avoid congestion on the road and also reduce pollution," the President said after inaugurating the integrated LRT at Jabodebek area on Monday (08/28), at Cawang LRT Station, Jakarta.
President revealed that around 996 thousand of vehicles entering Jakarta every day could cause the pollution and congestion.
"We always come as the world's top 10 most congested cities. As many as 996 thousand of vehicles enter Jakarta every day. Hence, the congestions and pollution are also ever-present in Jakarta," President said.
To suppress congestion and pollution, he added, the Government continues to develop environmentally friendly mass transportation such as Mass Rapid Transit (MRT), electric railways (KRL), Bus Rapid Transit (BRT) and LRT.
"Why are MRT, LRT, KRL, TransJakarta, BRT, airport train built? So that all of our people switch from private transportation to mass transportation," he added.
However, the President admitted that the utilization of the mass transportation such as MRT in Jakarta is still not optimal. He also expressed hope that the people can switch to the mass transportation.
"MRT, for example, although I see it full every day, but the capacity we want is 180 thousand passengers and today it is still 80 thousand, there is still capacity that has not been fully filled," he stated. (TGH/UN) (RKW/MUR)