President Jokowi in Kabul for State Visit
By
Office of Assistant to Deputy Cabinet Secretary for State Documents & Translation &nbsp &nbsp
Date
30 Januari 2018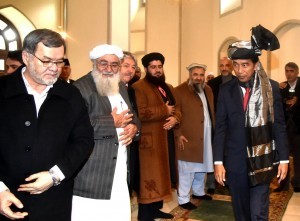 Terror attacks which occured in the Capital of Afghanistan, Kabul, several days prior to President Joko "Jokowi" Widodo's state visit to the country do not make the President and his entourage hesitant of carrying out the plan.
With determination, President Jokowi went to Afghanistan only a couple of hours after the second bombing and this is the second visit of the President of the Republic of Indonesia to the country after the state visit of President Soekarno.
President Jokowi, who is accompanied by First Lady Ibu Iriana, is slated to be in Kabul for six hours. The Presidential Aircraft carrying President Jokowi and his entourage landed in Kabul, Afghanistan on Monday (29/1) at 11.40 a.m. local time and is scheduled to leave the city on the same day at 05.25 p.m. local time.
From the airport, the President continued his journey by car which drove through snow and cold wind to the Presidential Palace of Arg.
Upon his arrival, President Jokowi received warm hug from President Ashraf Ghani. The meeting between both leaders looks like a meeting of two friends who have not seen each other in a quite long time.
Both Presidents participated in a state ceremony. The cold air and even snowfall did not reduce the warm interaction between the two Presidents.
President Jokowi and President Ashraf Ghani were seen smiling as if they are sending message to the world that friendship and peace are keys to manifest prosperity.
The tête-à-tête meeting is held in warm atmosphere. No tension showed as happened in a city that was just hit by terror attacks several hours ago.
Bilateral meeting is also filled with warm interaction, laughter from delegates of both countries.
The friendship between both Presidents is getting stronger as they exchanged headgears. President Jokowi received lungee, traditional Afghan style turban cloth, and chapan, traditional coat. While President Ashraf Ghani changes his pakul (cap) to black peci (Indonesian traditional cap).
After exchanging headgears, both leaders performed salah in congregation of Zuhr prayer at a mosque located in the Presidential Palace of Arg.
During a joint press conference, President Ashraf Ghani said that President Jokowi does not have to bring gold, but rain and snow.
"Rain and snow is blessing  for us. Snow and rain is equal for both the rich and the poor," President Ghani added.
President Jokowi received 'Medal of Ghazi Amanullah' which is conferred by President of Afghanistan during a luncheon. The bestowal of that medal is a tribute to President Jokowi for his determination and courage in enhancing bilateral relations between Indonesia and Afghanistan, especially in promoting the peace building in Afghanistan.
"I thank you for the Medal of Ghazi Amanullah. This Medal will serve as a new spirit to enhace bilateral relations and peace," President Jokowi said.
Although the state visit of President Jokowi and Ibu Iriana in Kabul, Afghanistan is very short, President Jokowi considered the time spent is enough to show his determination for peace to be brought to Afghanistan immediately.
President Ghani also believes that President Jokowi's visit to Afghanistan is good enough to show the world that Afghan Government is able to provide security guarantees to the guests of state and to show that peace should be achieved immediately.
Indonesian Foreign Affairs Minister Retno Marsudi said that terror attacks in Kabul do not stop President Jokowi from contributing for reconciliation and peacebuilding efforts in Afghanistan; the commitment is proved by the presence of the President in Kabul.
Minister Retno also quoted statement from the President that saying, "Peace does not come from heaven. Peace must be sought. Let us join hands and create peace. Let us join hands and preserve peace." (BPMI/EN) (RAS/MUR/MMB/YM/Naster)