President Jokowi Inaugurates Kuabang Airport Terminal in North Maluku
By
Office of Assistant to Deputy Cabinet Secretary for State Documents & Translation &nbsp &nbsp
Date
24 Maret 2021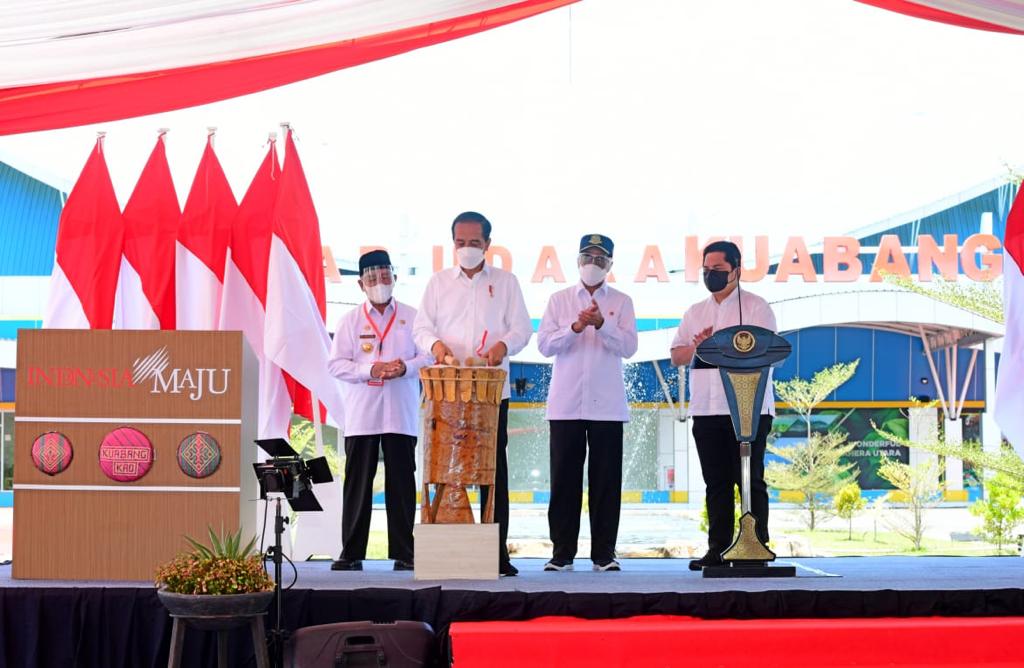 President Joko "Jokowi" Widodo Wednesday (24/03) inaugurated Kuabang airport terminal in Jati village, Kao sub-district, North Halmahera regency in the eastern Indonesian province of North Maluku.
"Thank God, the passenger terminal at Kuabang airport is ready to operate to support activities of people in North Halmahera regency and its surrounding area," the President said in his opening remarks.
Data from Ministry of Transportation shows that Kuabang airport passenger terminal, which was built with a budget of approximately Rp50.82 billion allocated from the State Budget, covers an area of 3,500 square meters and can contain up to 160,000 passengers per year.
The airport itself has a runway of 2,400 x 30 meters, taxiway of 100 x 23 meters, and apron of 157 x 72 meters that can accommodate three ATR planes and one Boeing plane.
Following the inauguration of the terminal, the President expressed hope that the airport will boost local economy.
"We hope there will be new spots of economic growth around this airport," he said.
On that occasion, the Head of State also ordered Minister of Transportation to increase flight frequency that was obstructed by the pandemic, decreasing the number of charter flights by half.
"This morning I ordered Minister of Transportation and the General Director to immediately operate at least two flights to Kuabang airport in a week. Therefore, the number of flights will not increase too drastically in a normal situation as it begins with two flights a week. It will increase again in the normal situation to three flights a day," he remarked.
Joining the President at the inauguration were Minister of Transportation Budi Karya and Minister of State-Owned Enterprises Erick Thohir. (TGH/UN) (DH/EP)