President Jokowi Inaugurates Newly-Renovated Istiqlal Mosque
By
Office of Assistant to Deputy Cabinet Secretary for State Documents & Translation &nbsp &nbsp
Date
7 Januari 2021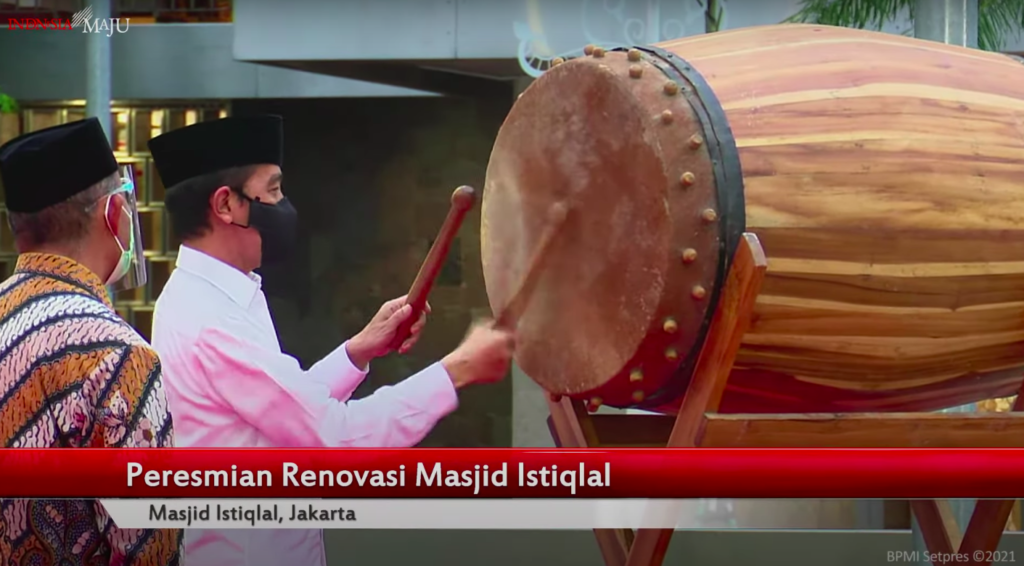 President Joko "Jokowi" Widodo on Thursday (7/11) inaugurated the newly-renovated Istiqlal Mosque.
This renovation of the iconic mosque is the first since 42 years ago and cost Rp511 billion from the State Budget.
"Today the renovation of Istiqlal Mosque, the pride of our nation, has been completed," the President said, adding that after the renovation, the mosque has a completely new look.
"The landscape has been redesigned, making it more beautiful and look neat. The floor is shinier and the lighting has also been installed. The mosque looks very modern and beautiful. Moreover, the river that passes through the Mosque is also getting cleaner," he said.
On that occasion, the President also expressed appreciation to Ministry of Public Works and Public Housing for the renovation by not only maximizing the function of the mosque as a place of worship but also by paying attention to architectural, artistic, and aesthetic aspects.
"And the important thing is it can maintain the principles of cultural heritage of the building," he added.
The President stressed that the mosque, which is located in the heart of Central Jakarta, was established as an expression of gratitude for the independence of the Indonesian nation.
"This spirit was clearly recorded in 1953 when Muslim leaders gathered to spark the idea of establishing a mosque as a symbol of the independence of the Republic of Indonesia, and it came up with the name 'Istiqlal' which in Arabic means independence," he explained.
Istiqlal Mosque is the largest mosque in Southeast Asia and the sixth largest mosque in the world in terms of worshipper capacity. Designed by Christian architect Friedrich Silaban, the mosque was opened to the public on 22 February 1978. (FID/UN) (EST/EP)