President Jokowi Inaugurates Pertamina Modular Hospital
By
Office of Assistant to Deputy Cabinet Secretary for State Documents & Translation &nbsp &nbsp
Date
6 Agustus 2021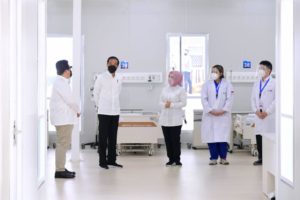 President Joko "Jokowi" Widodo, accompanied by Minister of State-Owned Enterprises (SOEs) Erick Thohir and President Director of state-owned oil and gas company Pertamina Nicke Widyawati, inspected and inaugurated Pertamina Modular Hospital in Tanjung Duren, West Jakarta, Friday (06/08).
"I would like to express my gratitude to Minister of SOEs and Pertamina who have prepared this Pertamina Modular Hospital with a capacity of 305 beds equipped with HCU [High Care Unit] and ICU [Intensive Care Unit] facilities," President Jokowi said, adding that the COVID-19 emergency response hospital also provides services for mothers and children.
The President also expressed gratitude for the decrease in the number of COVID-19 cases in the islands of Java and Bali. This decrease also resulted in a decline in the bed occupancy rate.
"Especially in Jakarta, I always monitor the bed occupancy rate daily, every night. Six or eight weeks ago, the bed occupancy rate at Wisma Atlet COVID-19 emergency hospital was at around 90 percent. This morning, I received information earlier that the rate is currently at 25 percent," he said.
However, the President affirmed that all elements must remain vigilant and careful about the possibility of COVID-19 transmission. (TGH/UN) (FI/LW)