President Jokowi Introduces New Cabinet Lineup
By
Office of Assistant to Deputy Cabinet Secretary for State Documents & Translation &nbsp &nbsp
Date
23 Oktober 2019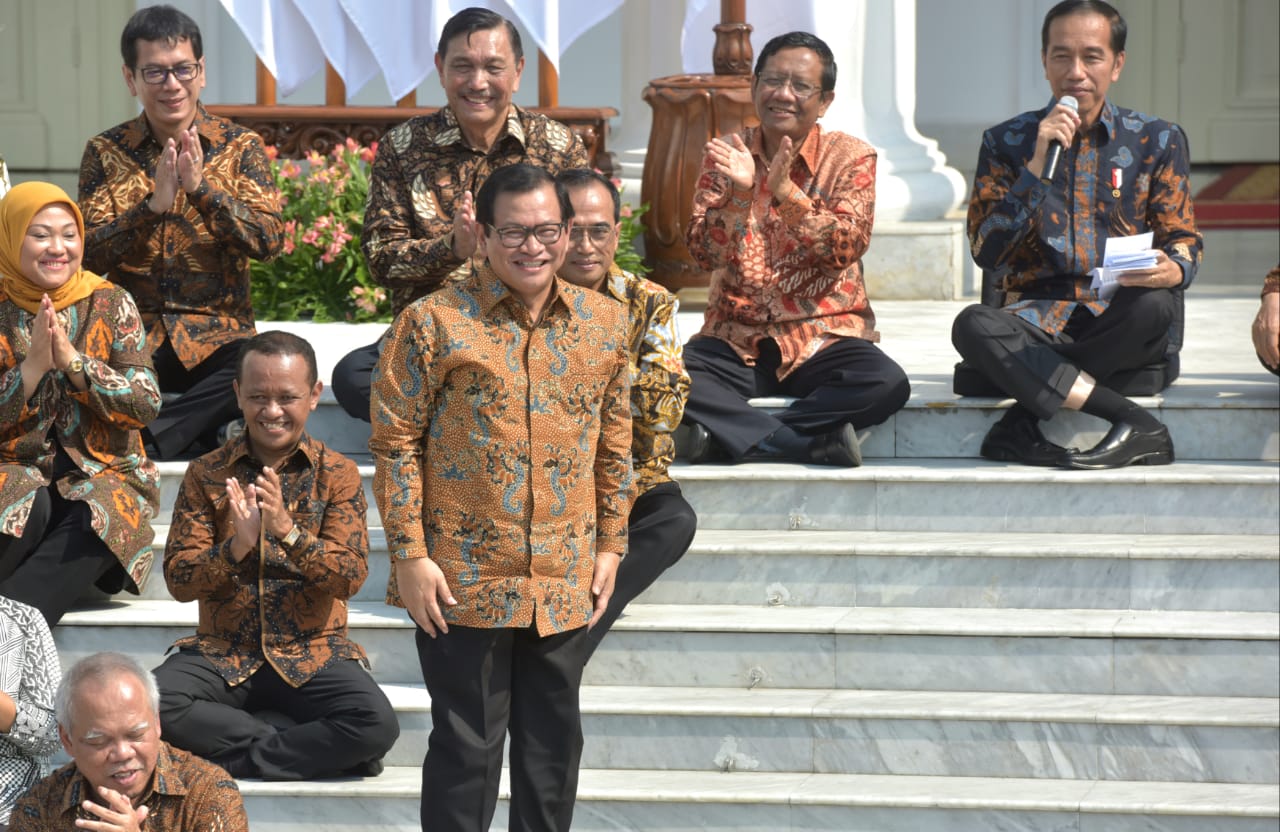 President Joko "Jokowi" Widodo accompanied by Vice President Ma'ruf Amin on Wednesday (23/10) at the Merdeka Palace introduced his new cabinet for 2019-2024 period called "Indonesia Onward Cabinet."
The President explained that the Cabinet would focus on developing human capital, job creation, and empowering micro, small, and medium enterprises (MSMEs).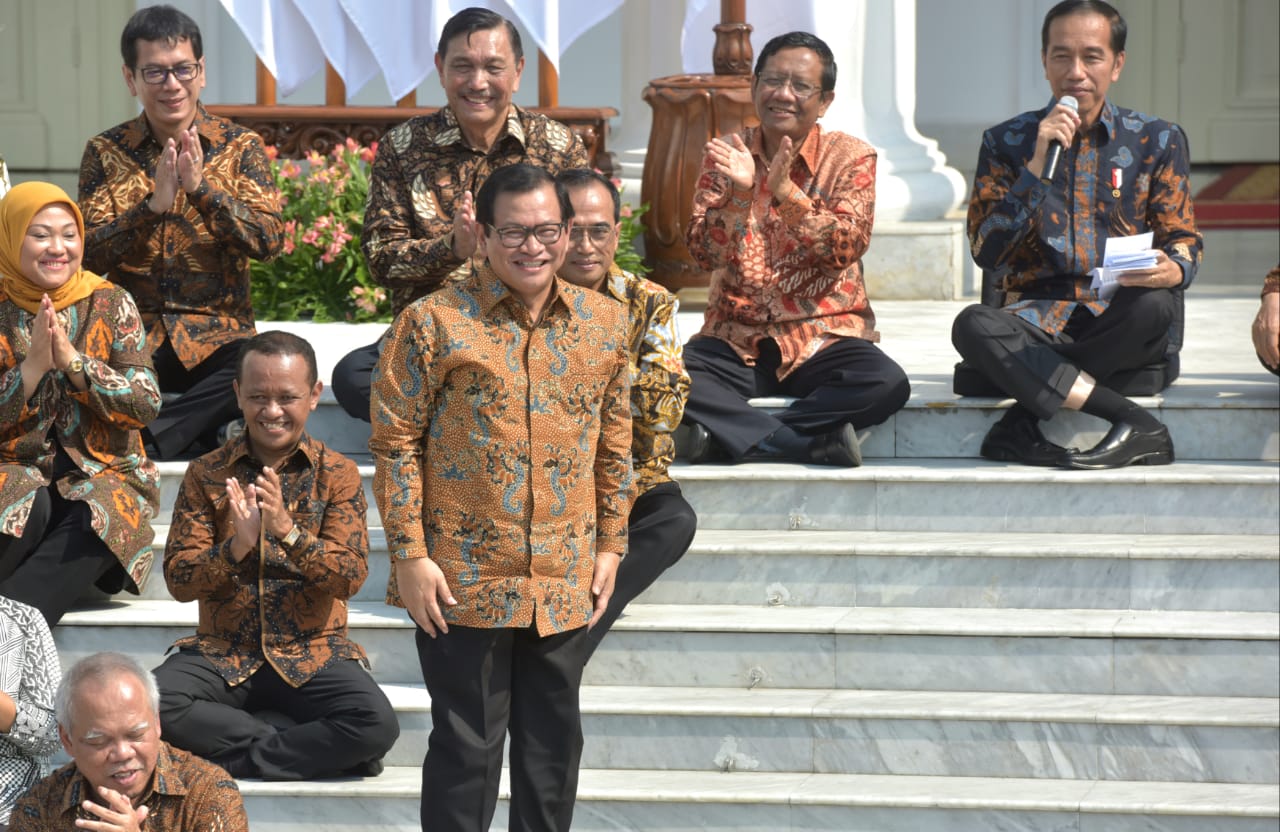 The cabinet lineup is as follows:
Prof. Dr. Mohammad Mahfud MD as Coordinating Minister for Political, Legal and Security Affairs, who will handle matters, related to corruption, legal, de-radicalization and anti-terrorism.
Airlangga Hartarto as Coordinating Minister for Economic Affairs, who will design breakthroughs and synergies between ministries to increase employment opportunities, to reduce the current account deficit and the trade balance deficit, to develop export-oriented industrialization, as well as to find alternatives for import substitution.
Prof. Muhadjir Effendy as Coordinating Minister for Human Development and Culture, who will speed up poverty eradication and lead mental revolution movement.
Luhut Binsar Pandjaitan as Coordinating Minister for Maritime Affairs and Investment, who will  design breakthroughs in the framework of Indonesia as the world's maritime fulcrum, handle investment barriers, and attract major investment.
Prabowo Subianto as Minister of Defense, followed by Pratikno as Minister of State Secretary and Retno Marsudi as Minister of Foreign Affairs.
Muhammad Tito Karnavian Minister of Home Affairs, who will reform population data,
General Fachrul Razi as Minister of Religious Affairs, who will handle radicalism, halal industry and hajj issues.
Yasonna Hamonangan Laoly as Minister of Law and Human Rights, who will oversee the Omnibus Law for the Employment Copyright Act and also the MSMEs Empowerment Act.
Sri Mulyani, who is re-appointed as Minister of Finance considering her capability in handling investment-friendly tax affairs, debt to GDP ratio affairs, and current account deficit.
Founder of popular ride-hailing app Gojek Nadiem Anwar Makarim as Minister of Education and Culture, who is expected to make significant breakthroughs in developing human capital who are ready to work and to synchronize education and industry.
General dr. Terawan Agus Putranto as Minister of Health, who will handle stunting issues, health issues, basic health services, and the Healthcare and Social Security Agency (BPJS).
Juliari Peter Batubara as Minister of Social Affairs, who will take care of Affordable Basic Food Card, Family Hope Program, and disaster management.
Ida Fauziyah as Minister of Manpower, who will work on industrial education partnerships, worker capacity building, labor social security, protection of migrant workers.
Agus Gumiwang Kartasasmita as Minister of Industry, who will handle export-oriented industrialization, find alternatives for import substitution, and find technology for MSMEs.
Agus Suparmanto as Minister of Trade, who will handle export, import, and trade balance.
Arifin Tasrif as Minister of Energy and Mineral Resources, who will realize new and renewable industry as well as reduce import on oil and gas.
Basuki Hadimuljono, who is re-appointed as Minister of Public Works and Public Housing.
Budi Karya Sumadi as Minister of Transportation, who will accelerate connectivity between roads, airports, sea ports and industrial areas, tourism areas, and logistics.
Johnny Gerald Plate as Minister of Communication and Informatics, who will work on cyber crime handling, data sovereignty, and information technology industry.
Syahrul Yasin Limpo as Minister of Agriculture, who will work on food security issues and increasing agriculture productivity.
Siti Nurbaya Bakar as Minister of the Environment and Forestry, who will focus on green industry, social forestry, carbon trading, as well as forest fires.
Edhy Prabowo appointed as Minister of Maritime Affairs and Fisheries, who will handle fishery industry and maritime tourism.
Abdul Halim Iskandar who is appointed Minister of Villages, Development of Disadvantaged Regions and Transmigration.
Sofyan Djalil as Minister of Agrarian and Spatial Planning/Head of National Land Agency, who will work on land certifications and land redistribution.
Suharso Monoarfa appointed as Minister of National Development Planning/Head of National Development Planning Agency.
Tjahjo Kumolo appointed as State Apparatus Empowerment and Bureaucratic Reforms, who will focus on de-bureaucratization, building core government and IT system.
Erick Tohir as Minister of State-Owned Enterprises, who will bring the Ministry to expand to the global market.
Teten Masduki as Minister of Cooperatives and SMEs, who is responsible in  strengthening the capital skills and networks of MSME actors to enter global market as well as bring modernization to the cooperatives throughout the country.
Wishnutama Kusubandio appointed as Minister of Tourism and Creative Economy.
I Gusti Ayu Bintang Darmawati as Women's Empowerment and Child Protection, who will increase women's entrepreneurship skill, eliminate child labor, overcome the violence problems against children and women.
Bambang Permadi Soemantri Brodjonegoro as Minister of Research and Technology, followed by Zainudin Amali as Minister of Youth and Sports.
Moeldoko as Presidential Chief of Staff and Pramono Anung as Cabinet Secretary.
Bahlil Lahadalia appointed as Chairman of the Investment Coordinating Board (BKPM).
ST Burhanuddin  as Attorney General, who will maintain legal independence while uphold the rule of law.  (DND/RAH/ES)
Translated by: Estu Widyamurti
Edited by: M. Ersan Pamungkas