President Jokowi Kicks Off East Nusa Tenggara Working Visit
By
Office of Assistant to Deputy Cabinet Secretary for State Documents & Translation &nbsp &nbsp
Date
9 April 2021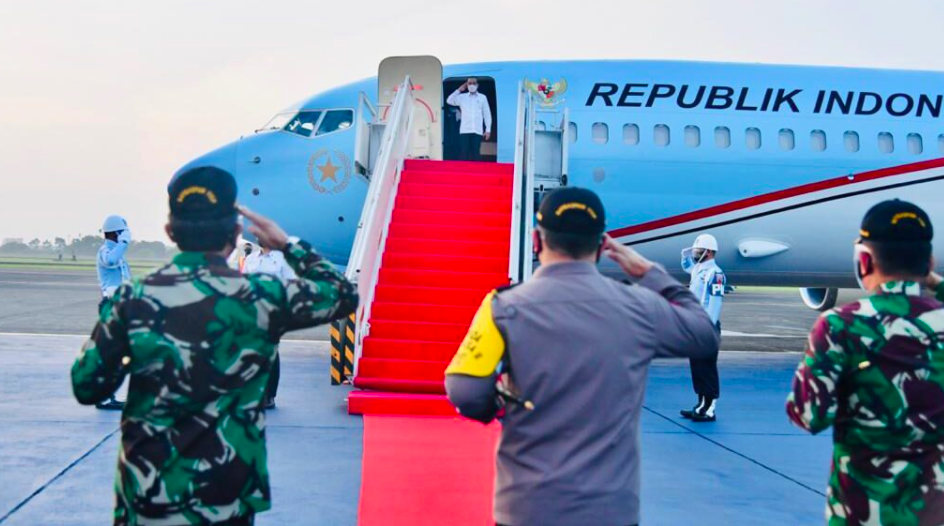 President Joko "Jokowi" Widodo, on Friday (9/4) morning, headed for East Nusa Tenggara (NTT) Province to conduct a working visit. The President is scheduled to inspect several disaster-affected areas.
The Indonesian-1 Presidential Aircraft that carried the President and his entourage took off from Halim Perdanakusuma Air Force Base, Jakarta, at around 6.00 a.m. Western Indonesian Time and will land at Frans Seda Airport in Maumere, Sikka Regency, NTT Province.
For the record, since 2-5 April 2021 the tropical cyclone Seroja hit Kupang City and 21 regencies in NTT Province, triggering flash floods and landslides. Governor of NTT Province Viktor Bungtilu Laiskodat has declared an emergency response status starting from 6 April to 5 May 2021.
Previously on Tuesday (6/4), President Jokowi chaired a Limited Meeting to discuss disaster management in NTT and West Nusa Tenggara (NTB) Provinces.
In the virtual limited meeting, the President conveyed the following points:
First, the Head of State ordered his ministers to accelerate the evacuation process, as well as search and rescue operations.
"I order Head of the National Agency for Disaster Management (BNPB), Head of the National Search and Rescue Agency (Basarnas), as well as Commander of the Indonesian National Defense Forces (TNI) and Chief of the Indonesian National Police (Polri) with all their ranks to assign more SAR personnel so they can cover more impacted regions, including isolated regions and many islands in NTT, in Alor Island, Pantar Island, and other islands to smoothen victim evacuation, search and rescue processes," the President said.
On that occasion, the President also ordered Minister of Public Works and Public Housing (PUPR) to mobilize heavy equipment from various places. "If it is still difficult to traverse land route, I order to speed up access opening through the sea and air," he added.
Second, relevant parties should ensure the availability of healthcare services and medical assistance needed by the victims. Thus, Minister of Health was ordered to immediately assign medical assistance teams to the affected locations.
"I order Minister of Health to provide more medical service facilities on the ground, to prepare hospitals to treat the victims, and to ensure the availability of medical personnel and medicines," he said.
Third, the President also ordered related parties to immediately handle and fulfill the needs of the refugees, from logistics to sanitation. The Government has deployed aids to NTT and West Nusa Tenggara (NTB) provinces, but not all of the aids have reached the impacted locations due to extreme weather.
"I order the BNPB and regional governments to immediately collect data on refugee shelters to ensure the logistics, tents, kitchen facilities in order to fulfill basic needs of the refugees as well as babies and children, especially in terms of clean water and bathrooms," he said.
Fourth, the President ordered acceleration of post-disaster supporting infrastructure recovery.
"For Minister of PUPR, again, do speed up recovery of damaged infrastructure. I saw several bridges collapsed and road access (have been disrupted) too. Do immediately recover power grid, telecommunication network, internet network, distribute logistics and fuel, so the assistance can be immediately distributed to the victims of disaster," he said.
Furthermore, the President reminded his Cabinet to anticipate potential disasters caused by extreme weather in many regions in Indonesia.
"I order the Meteorology, Climatology, and Geophysics Agency (BMKG) to intensify warnings of extreme weather due to tropical cyclone Seroja. Make sure that all regional heads and the public can access and monitor the forecast of weather and climate issued by the BMKG. They must be aware of everything, so the public can be more alert and vigilant to prepare the risk, including strong winds, floods, flash floods, and landslides," the President said. (BPMI/UN) (RIF/MMB)