President Jokowi Lauds Indonesian Employers Association's Commitment to Stunting Handling
By
Office of Assistant to Deputy Cabinet Secretary for State Documents & Translation &nbsp &nbsp
Date
31 Juli 2023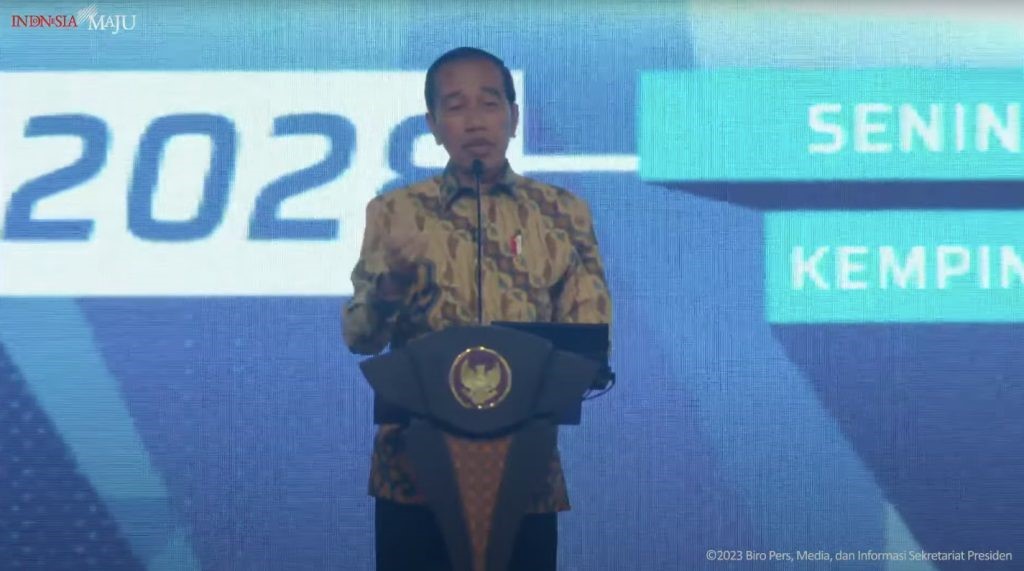 President Joko "Jokowi" Widodo expressed appreciation for the concern shown by the Indonesian Employers Association (APINDO) on stunting handling in the country.
"I appreciate, once again, APINDO in handling stunting," he said at the Inauguration of Members of the National Leaders' Board (DPN) of the Indonesian Employers Association (APINDO) in 2023-2028 Terms of Service at the Grand Ballroom of Kempinski Hotel in Central Jakarta, Monday (07/31).
The President also expressed hope that other associations of businesspeople, such as the Indonesian Chamber of Commerce and Industry (Kadin) and Indonesian Young Entrepreneur Association (HIPMI), also contribute to achieving the stunting reduction target of 14 percent in 2024.
"Our target in 2024 is 14 percent, but based on what I observed on the ground, it is not easy. However, I am sure that despite the difficulty and intricacy, we can achieve the target with the participation of entrepreneurs," he said.
The President pointed out that the national stunting rate has decreased from 37 percent in 2015 to 22 percent at the end of 2022 while expressing optimism that support programs of businesspeople, such as 'foster children program', will continue to reduce stunting prevalence in children.
"On average, children who suffer stunting are from underprivileged families. Give them eggs, fish, chicken meat, red meat, vegetables. It is not a big deal, but it must be carried out regularly," he said, adding that if conducted consistently, it will make a huge impact on stunting reduction in Indonesia and bring benefits from the future demographic bonus.
"A big problem that burdens our demographic bonus in the future may be caused by stunting," he remarked.
For the record, stunting alleviation is the flagship program initiated by the 2023-2028 DPN APINDO under Chair Shinta W Kamdani.
"APINDO will allocate resources and support of the business sector for stunting reduction programs to anticipate threats to the demographic bonus that may obstruct the achievement of 2045 Golden Indonesia vision," she said as quoted from the official website of APINDO. (FID/UN) (DH/MUR)