President Jokowi Launches Inclusive Partnership to Level Up MSMEs
By
Office of Assistant to Deputy Cabinet Secretary for State Documents & Translation &nbsp &nbsp
Date
3 Oktober 2022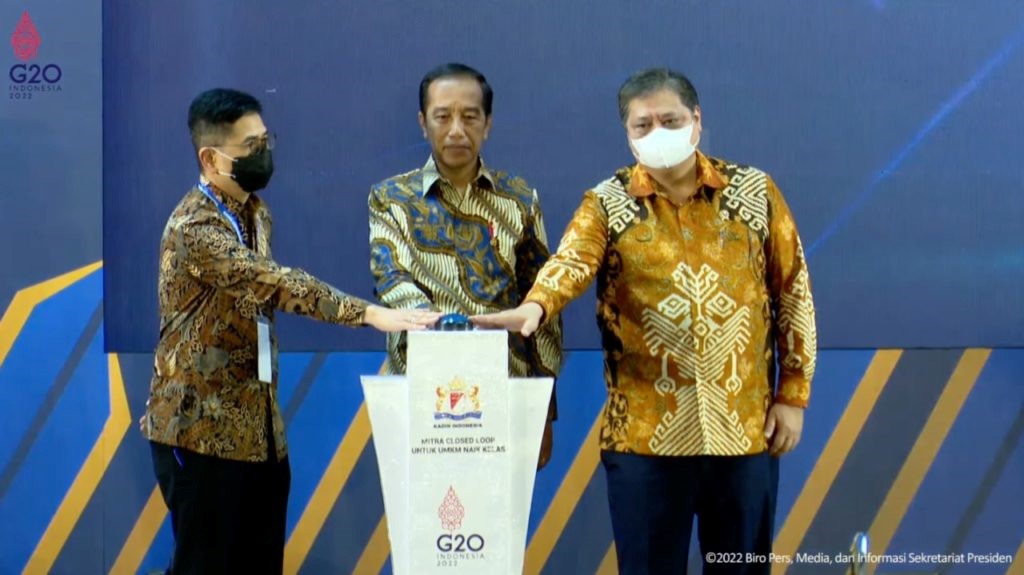 President Joko "Jokowi" Widodo Monday (10/3) at the Smesco Building, Jakarta, officially launched Inclusive Partnership to Level up Micro, Small, and Medium Enterprises (MSMEs).
"We all must synergize. We must share the same feelings for each other in facing tough challenges. Be united. We need to strengthen 'Indonesia Incorporated' (a program to promote Indonesia). Business actors from large companies to small enterprises must collaborate to solve problems on the ground in a concrete and tangible manner," the President said.
On that occasion, the President expressed belief that micro, small, medium, and large-sized businesses will become a great force once they are united.
"For Jakarta, provinces, regencies, cities, and villages, they must join hands just as we did to escape the pandemic. At that moment, I saw all of us working together. The Government, the private sector, alhamdulillah we made it. The same goes for this matter. We need to cooperate," he said.
The Head of State also encouraged large-sized business actors to provide guidance and assistance to the environment and the society so they can drive the economy around them.
"The company in an area may be big with its great factory, but the environment should not be poor," he said.
The President cited an example that the assistance provided to corn farmers in Dompu, West Nusa Tenggara (NTB) brings an impact on increasing farmer productivity, while simultaneously suppressing Indonesia's corn imports.
Previously, Indonesia's corn imports reached 3.5 million tons per year and have declined for 7 consecutive years to 800 thousand tons per year thanks to the assistance.
"Normally, in a 1-hectare area, farmers can only produce 4 tons, but now they can reach 8 tons. The production cost is approximately Rp1,800-1,900, that's what I knew when I went to Dompu. The selling price can be Rp3,800 per kilogram. Luckily, it reached 100 percent. I hope it is not just corn. Other commodities should be assisted with the same pattern. If corn works, rice, cassava, porang, and coffee will too," he said.
The President acknowledged that it is impossible for the Government to provide assistance to all MSME actors and for that reason, a breakthrough in the form of partnerships is critical to be carried out by business actors.
"We can quickly make a breakthrough by way of partnership, like the one we start this morning. I saw honey products earlier. Sellers usually put honey in bottles, selling them to the market with good packaging and brand names. The price will be two or three-fold higher. That is what we expect," he added.
The President also expressed hope that the partnership would be able to better connect the needs of the market with producers and the products can also enter the export market.
"If the program works, I believe it will bring an effect on extreme poverty that will be handled quickly and well," he remarked.
On that occasion, the President also witnessed the signing of several cooperation documents to improve partnerships in encouraging MSMEs to level up.
The documents include cooperation between the Indonesian Chamber of Commerce and Industry (Kadin) and Coordinating Ministry for Economic Affairs on Multi-Stakeholder Partnerships for the Acceleration of the Elimination of Extreme Poverty; cooperation between Kadin and Ministry of Law and Human Rights on Facilitation Cooperation in MSME Development; and cooperation between Kadin and Ministry of Cooperatives and Small and Medium Enterprises on Multi-Stakeholder Partnerships in Empowering Micro, Small, Medium Enterprises and Cooperatives. (FID/UN) (RIF/EP)