President Jokowi Launches IndoVac Vaccine
By
Office of Assistant to Deputy Cabinet Secretary for State Documents & Translation &nbsp &nbsp
Date
13 Oktober 2022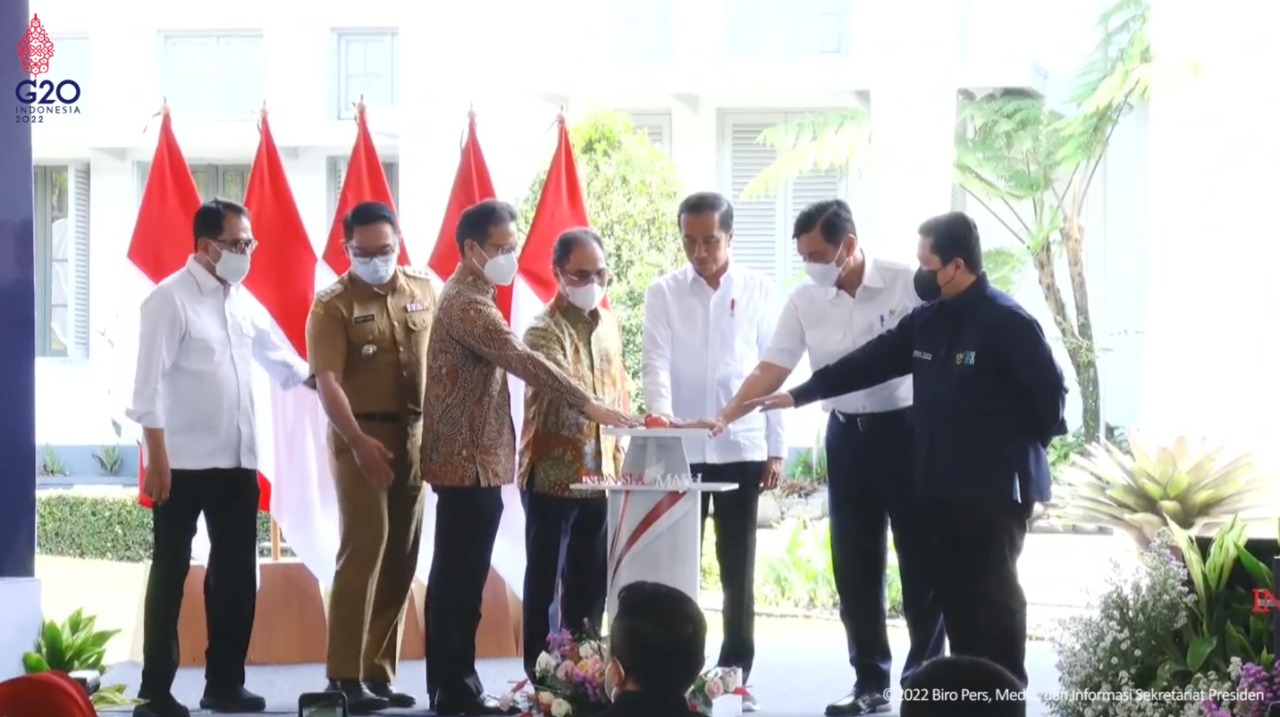 President Joko "Jokowi" Widodo Thursday (10/13) launched a domestically produced COVID-19 vaccine IndoVac and inspected the first jab of the vaccine at state-owned pharmaceutical company PT Bio Farma factory, Bandung, West Java province.
On that occasion, the President ordered his cabinet to support and spur vaccine development programs in the country so Indonesia could be more independent in meeting national needs.
"To Minister of SOEs, Minister of Health, do continue to urge Bio Farma so that later it will actually generate more considerable revenue for the country and we could be self-sufficient in matters related to vaccine," the President said, adding that the IndoVac's vaccine production capacity will reach around 20 million doses this year and will increase to 40 million doses next year.
"If the market still needs it, we can reach 120 million doses of vaccine," he said.
The President also expressed appreciation to everyone who supported the vaccine development.
"I think this is the hard work of our young human resources in working on a new vaccine, from upstream to downstream, from the beginning of the IndoVac to now 1.5 years later. They don't make a noise but now we have IndoVac," he stated.
The Head of State also expressed his appreciation to Bio Farma for being able to stand in the ranks of the top five vaccine producers in the world with a production capacity of up to 3 billion doses of vaccines per year exported to 153 countries.
"Bio Farma is a vaccine producer that is in the top five in the world and produces various vaccines, such as those for polio, diphtheria, meningitis, flu, measles, and the last one, the one we launch today, the IndoVac COVID-19 vaccine. For the polio vaccine alone, Bio Farma controls 70 percent of the world market share, 70 percent. They supply the polio vaccine to all countries. This is amazing," he remarked.
Meanwhile, Minister of SOEs Erick Thohir stated that the development of this domestically produced vaccine is the first step to support health security in Indonesia. He said that future cooperation will be encouraged.
"This is just the first step. We will continue to encourage similar collaborations. We have also signed a similar one like what we have today, in the UK, with ProFactor. We cooperate with its R&D, but of course the license, the brand is ours. We are also the one who produce the products," Erick said, adding that Ministry of SOEs and Ministry of Health have prepared measures to anticipate future pandemics.
He also said that the Ministry also pushed for a consolidation of the health system, starting from R&D, production or manufacturing to distribution and retail supported by technological advances.
"Our goal in 2027 is certainly to push our health system to reach Rp94 trillion, which is 25 percent of the market share. This is important for us to do," he said.
President Director of Bio Farma Honesti Basyir expressed hope that the IndoVac vaccine can be a milestone for Indonesia to be independent and reduce the dependence on imported products.
"Indonesia has the ability from a quality perspective, from a safety perspective. [The vaccine] meets the requirements based on the results of the clinical trials we conducted. We hope this can be our drive to continue providing products that are needed in {health] handling and build health resilience in Indonesia as mandated by the President," Honesti said. (DND/MAY/UN) (FI/EP)