President Jokowi: Let's Go Back to Work
By
Office of Assistant to Deputy Cabinet Secretary for State Documents & Translation &nbsp &nbsp
Date
10 Juni 2019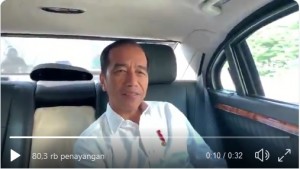 As the Eid holiday come to an end on Sunday (9/6), the government and private sector employees have returned to their office.
President Joko "Jokowi" Widodo, in a vlog released in his social media accounts, has invited all citizens to return to work to build a developed, prosperous Indonesia.

"Assalamualaikum warahmatullahi wabarokatuh. The Eid holiday is over; it's time to go back to work, to synchronize our steps, mind, and energy to build a developed and prosperous Indonesia. Thank you, wassalamu alaikum warhmatullahi wabarokatuh," President Jokowi said in the vlog.
Before releasing the vlog, the President greeted his followers via his twitter account @Jokowi. "Good afternoon, Indonesia. The Eid holiday is over. It's time to go back to work," the tweet reads. (ES)
Translated by: Ridwan Ibadurrohman
Edited by: Mia Medyana