President Jokowi Meets Indonesian Teachers Association
By
Office of Assistant to Deputy Cabinet Secretary for State Documents & Translation &nbsp &nbsp
Date
5 Desember 2018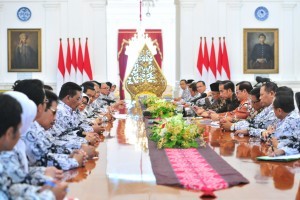 President Joko "Jokowi" Widodo invited officials of the Indonesian Teachers Association (PGRI), at the Merdeka Palace, Jakarta, Wednesday (5/12) to hear their aspiration that probably can be realized by the Government and the PGRI.
"We want to change national strategic development from developing infrastructures to developing human resources, and it will be started next year," President Jokowi said.
President Jokowi reiterated his message during the peak of the 2018 National Teachers' Day commemoration and the 73rd Anniversary of the PGRI at the Pakansari Stadium, Bogor Regency, West Java, Saturday (1/12) that quality of teachers is the key and role of teachers is crucial in developing human resources.
"Therefore, the Government wants to hear suggestions from teachers on tasks that we must do, how to improve teacher and principle quality in which I believe are the key to develop human resources in Indonesia," President Jokowi asserted.
On that occasion, President Jokowi also asked inputs from non-tenured teachers who have opportunity to be appointed as civil servant in this year's civil servant recruitment process through Government Personnel with Employment Contracts (PPPK) scheme.
PGRI Chairwoman Unifah Rosyidi welcomed the President's request and expressed her appreciation for the invitation to meet with the President at the Merdeka Palace, Jakarta.
"It never crossed our mind to be here, we are touched. We, teachers can feel the President has given us huge attention," Unifah said.
Accompanying President Jokowi during the meeting were, among others, Minister of State Secretary Pratikno, Cabinet Secretary Pramono Anung, and Minister of Education and Culture Muhadjir Effendy. (FID/JAY/ES)
Translated by : Rany Anjany Subachrum
Edited by : Yuyu Mulyani