President Jokowi Opens 2016 Forbes Global CEO Conference
By
Office of Assistant to Deputy Cabinet Secretary for State Documents & Translation &nbsp &nbsp
Date
30 November 2016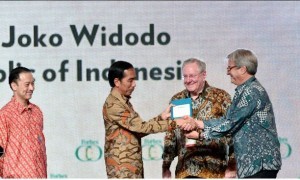 After carrying out a series of reforms on economic sector, such as removing fuel subsidy, launching several economic policy packages, constructing infrastructures massively, and promoting tax amnesty program, the Government is set to take a further step, namely focusing on building infrastructures for tourism industry.
President Joko 'Jokowi' Widodo asserted that tourism plays an important and dominant role in Indonesia's economy.
The President cited the example of the number of tourists visiting Manado, North Sulawesi, that has increased from 12,000 people per year to 12,000 people per month.
"People know Bali, our heaven on earth. Your life is not complete if you have not been to Bali. However, Indonesia has more tourist destinations besides Bali, among others, Raja Ampat, Mandalika, Lombok, Komodo Island, and others. If you want to buy property there, it is better for you to buy it immediately before the price goes up," President Jokowi said in his remarks at the 16th Annual Forbes Global CEO Conference 2016, at the Shangri-la Hotel, Jakarta, on Tuesday (29/11).
President Jokowi also hopes business people attending the event can start making investment and doing their businesses in Indonesia immediately and can contribute to Indonesia's developing process.
The President also reminded all that doing business in Indonesia is an opportunity.
Nevertheless, President Jokowi admitted that it is not an easy task to do business because of several challenges and obstacles; yet, the President ensured that the Government will provide an ease of doing business and process to obtain business permits.
"I'm here to ensure you that Indonesia will continue to do reform and create favorable investment climate for business sector," President Jokowi said.
Previously, President Jokowi told the participants that after he was appointed as the President, the Government continues restructuring the economy through bureaucratic reforms and improving public services.
President Jokowi added that the Government also took drastic measures by slashing fuel subsidies by more than 80 percent within the first month of his administration.
The subsidy cut brought from the budget is worth US$15 billion and can be allocated to other productive sectors, the President said. "We launched the biggest infrastructure development program, which covers the construction of 1,000 km of toll roads, 3,258 km of railways, 15 new airports and extend runways in 10 airports, as well as constructing 24 seaports and its expansion," President Jokowi said.
Moreover, since 14 months ago the Government has been launching several policy packages to cut the permit in order to provide an ease of doing business. "Up until now, there are 14 policy packages launched," the President said.
This year, the President added, the Government also launched tax amnesty program and only after five months, the results records that this is the most successful tax amnesty program in the world. "Up until now, we have collected Rp10 billion (US$737,000) or one percent of our Gross Domestic Product (GDP)," the President mentioned.
On that occasion, President Jokowi admitted that he understands if Donald Trump, the President-elect of the United States, is now considering the right policy to be implemented in his administration, such as infrastructure development, de-regulation, and ease of doing business, as well as tax amnesty program. "In case Mr. Trump needs some advice, we would be happy to share our experiences," President Jokowi said to the applause from the participants attending the forum.
President Jokowi further said that the implementation of economic reforms through launching several economic policy packages brought some results. "With the reforms, Indonesia's ranking in Ease of Doing Business reported by the World Bank has improved," President Jokowi said.
"Our ranking in Ease of Doing Business has climbed 15 places to 91, from the previous rank of 106. There is no other country which experience such incline in just a year. However, we're not satisfied with it yet because our target is to rank 40," the President added.
Joining the President at the forum were Minister of Trade Enggartiasto Lukita, Minister of Industry Airlangga Hartarto, and Head of Investment Coordinating Board (BKPM) Thomas Lembong. (BPMI/ES)(RAS/EP/YM/Naster)