President Jokowi Signs Presidential Decree on Investment Acceleration Task Force
By
Office of Assistant to Deputy Cabinet Secretary for State Documents & Translation &nbsp &nbsp
Date
5 Juni 2021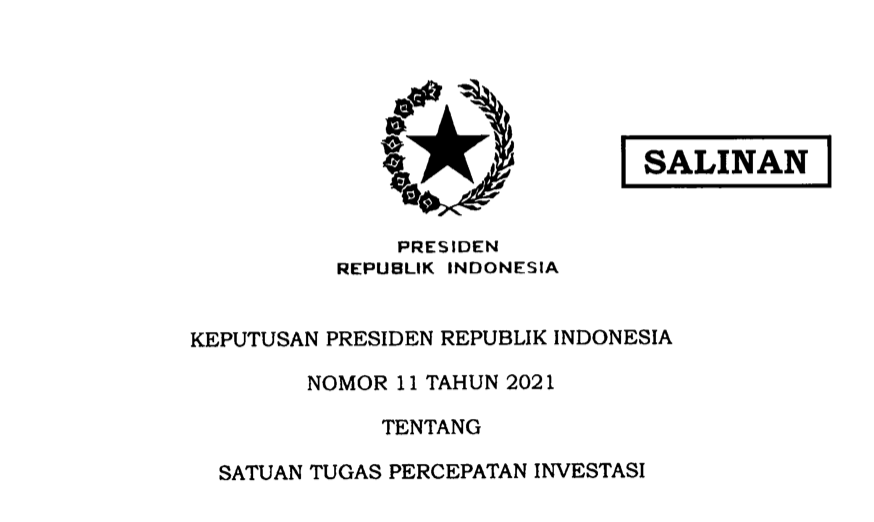 President Joko "Jokowi" Widodo has issued Presidential Decree Number 11 of 2021 on the Task Force for Investment Acceleration on 4 May 2021.
The Presidential Decree aims to boost investment and improve the country's ease of doing business in order to encourage economic growth and provide employment opportunities. To that end, it is necessary to implement end-to-end control and play active roles in resolving obstacles through the establishment of the Investment Acceleration Task Force.
Based on the provisions in Article 4, the Task Force, which is under and responsible to the President, has five tasks, as follows:
ensuring the realization of investment for every domestic and foreign investment business actor who is interesred and/or who has obtained business license;
quickly resolving problems and obstacles (debottlenecking) for business sectors that are constrained by business licensing for investment;
encouraging business acceleration for sectors that rapidly generate foreign exchange, generate employment, and develop regional/local economy;
accelerating the implementation of cooperation between investors and Micro, Small, and Medium Enterprises; and
providing recommendations for administrative actions for heads of ministries/institutions/authorities and provincial/regency/municipal governments against officials/personnel who hinder the implementation of investment or those who increase the cost of investing in Indonesia.
"In carrying out the tasks as intended, the Investment Task Force shall have the authority to make decisions related to investment realization which must be immediately followed up by ministries/institutions/authorities/regional governments and to coordinate on matters related to investment realization with ministries/institutions/authorities/regional governments," Article 5 of the Decree reads.
The Task Force is chaired by Minister of Investment/Head of Investment Coordinating Board (BKPM). In addition, Deputy Attorney General and Deputy Chief of the Indonesian National Police are appointed as Deputy Chairpersons.
"The Investment Task Force shall report the implementation of its duties to the President at least once a month or at any time if deemed necessary," the Presidential Decree reads.
In carrying out its duties, the Task Force is assisted by Secretariat for  Investment Task Force and may also form Implementing Team.
"All costs required for the implementation of the duties of the Investment Task Force, the Secretariat for  Investment Task Force, and the Implementing Team shall be borne by the State Budget through the Budget of Minister of Investment/Head of Investment Coordinating Board," Article 10 reads.
The term of office of the Task Force, as stated at the end of the Presidential Decree, shall start from 4 May 2021. (UN) (FI/MUR)