President Jokowi Signs Presidential Instruction on Acceleration of Extreme Poverty Alleviation
By
Office of Assistant to Deputy Cabinet Secretary for State Documents & Translation &nbsp &nbsp
Date
14 Juni 2022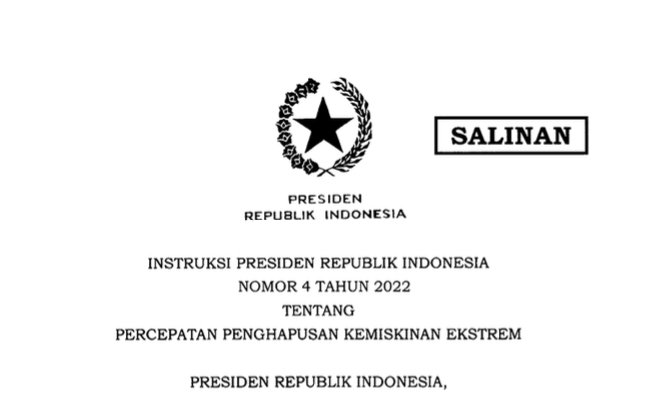 President Joko "Jokowi" Widodo 8 June 2022 signed Presidential Instruction Number 4 of 2022 on Acceleration of Extreme Poverty Alleviation.
The Instruction aims to alleviate extreme poverty in the country by 2024 through program integration and synergy, as well as collaboration between ministries/institutions and regional governments.
"To take necessary steps according to their respective duties, functions, and authorities to accelerate the alleviation of extreme poverty by ensuring the accuracy of targets and integration of inter-ministerial/institutional programs by involving community participation focused on priority locations to accelerate the alleviaton of extreme poverty," the Presidential Instruction reads.
In addition, the President also instructed his administration to carry out the acceleration in a targeted manner through policy strategies that include reducing the burden of public expenditure, increasing people's income, and reducing the number of poverty pockets.
Both orders are addressed to a number of ministers and head of institutions as well as all governors and regents/mayors.
For the record, the Presidential Instruction is effective until December 31, 2024.
"The implementation of this Presidential Instruction is coordinated by Vice President as Head of the National Team for the Acceleration of Poverty Alleviation," the President stated in the Instruction. (UN) (FI/EP)