President Jokowi Signs Presidential Regulation on Social Impact Handling in Land Acquisition Process
By
Office of Assistant to Deputy Cabinet Secretary for State Documents & Translation &nbsp &nbsp
Date
27 Agustus 2018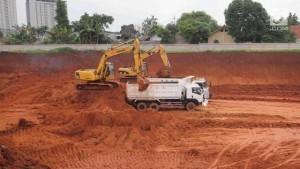 Considering that land acquisition process for national development is often hampered by circumstances in which land has been controlled and used by the community for a long period of time, the Government deemed it necessary to implement social impact handling in land acquisition process.
In that consideration, President Joko "Jokowi" Widodo on 6 August 2018 signed Presidential Regulation Number 62 of 2018 on Social Impact Handling in Land Acquisition Process for National Development Projects (link: Perpres Nomor 62 Tahun 2018).
According to the Regulation, the Government handles Social Impact to the community who control lands that will be used for national development projects (National Strategic Projects and Non National-Strategic-Projects).
"Land as intended means state-owned lands or lands belong to the Government, regional government, state-owned enterprises, or regional administration-owned enterprises," Article 3 paragraph (2) of the Presidential Regulation reads.
Community means: a. people who have national identity card or letter of resident status legalized by local sub-district; and b. people who do not have official rights over the land.
Meanwhile, the definition of land controlled by the community should meet this following conditions: a. has used the land physically at least 10 (ten) consecutive years; and b. has  openly controlled and used the land with good intention and no intervention, and has been acknowledged and justified by the owner of the rights over the land and / or subdistrict head / village head.
"Community complies with the aforementioned conditions will receive compenstation in form of money or resettlement," Article 6 reads.
Therefore, this Presidential Regulation ordered ministries/institutions, regional governments, state-owned enterprises, or regional administration-owned enterprises whose lands are used by the community and will be developed in national project to compile Social Impact Handling planning documents.
The documents as intended shall be submitted to the Governors who will establish a Social Impact Handling Integrated Team.
The Integrated Team will verify and validate data over the land controlled by community, as well as appoint an independent party to calculate the amount of compensation, recommend the amount of compensation, and recommend a list of people who are entitled to the compensation.
According to the Presidential Regulation, the amount of compensation is calculated based on assessment of independent party by taking into account: a. cost to clean the land from any debris; b. mobilization; c. cost to rent a house for a maximum of 12 months; and/ or c. compensation for losing income from land use.
Based on the recommendation of Integrated Team, the Governor shall stipulate: a. list of people who are entitled to compensation; b. amount of compensation; and c. mechanism and procedure of compensation distribution.
"Based on Governor's stipulation as intended, the ministries/institutions, regional government, state-owned enterprises, or regional administration-owned enterprises must give the compensation to the community," Article 10 of the Presidential Regulation reads.
This regulation asserted that the granting of compensation money can be done in cash or through banking transactions, and with the assistance of the Integrated Team and supported by security apparatus if needed.
As for land that was compensated, the community live there must leave the land no later than 7 (seven) days after compensation is received.
Further provisions regarding the implementation of this Presidential Regulation will be regulated in a Ministerial Regulation issued by a Minister who is responsible for land matters, and must be stipulated no later than 30 (thirty) days as of the promulgation of this Presidential Regulation.
This Presidential Regulation shall apply as of the date of its promulgation," reads Article 19 of Presidential Regulation Number 62 of 2018 which is stipulated by Minister of Law and Human Rights Yasonna Laoly on the date of  August 10th 2018.  (Pusdatin/ES) (RAS/MMB/Naster)