President Jokowi Tells BNN Head to Apply KPK Standard at BNN
By
Office of Assistant to Deputy Cabinet Secretary for State Documents & Translation &nbsp &nbsp
Date
1 Maret 2018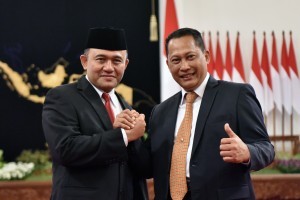 President Joko "Jokowi" Widodo has asked newly inaugurated Head of the National Anti-Narcotics Agency (BNN) Heru Winarko to bring standards of the Corruption Eradication Commission (KPK) and apply them at the BNN given his former position as Law Enforcement Deputy of the KPK.
"Be it standards of governance, organizational governance, or integrity," President Jokowi told reporters after installing Insp. Gen. Heru Winarko as new BNN Head, at the State Palace, Thursday (1/3).
The President also instructed Heru to prevent narcotics from entering the country and to reduce the number of drug users. "That means rehabilitation and prevention measures should be improved," the President added.
In the meantime, Heru promised to continue implementing policies made during former BNN Head Comr. Gen. Budi Waseso's tenure. "We will intensify prevention, eradication, and rehabilitation measures that become tasks and responsibilities of the BNN in accordance with the laws," Heru told the reporters after the inauguration.
However, Heru, a 1985 graduate of the Police Academy, reminded the public that eradicating illicit drugs is not only the responsibility of the BNN, but is the responsibility of the public as well; thus, he hopes to gain supports from stakeholders, institutions, and the general public.
"Drugs are our common enemy," Heru firmly said.
Heru also acknowledged that his new task as BNN Head is similar to that of his former position as Law Enforcement Deputy of the KPK.
"I think standards of law enforcement at the BNN and KPK are not much different. There are prevention divisions at both institutions. We will try to implement the good standards from both institutions," Heru added.
Under the Law on Illicit Drugs, Heru asserted that regulations on prevention, rehabilitation, and eradication of drugs have already been established and he pledged to optimize the regulations and synergize all existing deputies within the BNN.
Also on that occasion, Heru told reporters that he and former BNN Head Budi Waseso have known each other since 1981. "He is my senior. We are fellow senate members when we were cadets. I get some advice, and guidance from him," Budi said, adding that he has informed Heru that the transfer of office ceremony to be held on Monday (5/3). (DNS/JAY/ES) (RAS/MUR/EP/Naster)