President Jokowi Thanks Election Officials
By
Office of Assistant to Deputy Cabinet Secretary for State Documents & Translation &nbsp &nbsp
Date
20 April 2019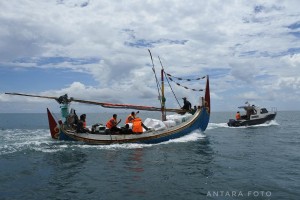 President Joko "Jokowi" Widodo expressed gratitude to all officers involved in the 2019 simultaneous elections held on Wednesday (17/4).
"I would like to thank the 2019 election officials for their hard work and dedication to this year's election," President Jokowi wrote through his personal Twitter account @jokowi and his Facebook fanpage on Friday (19/4).
The President explained that there were more than 800,000 polling stations throughout Indonesia and many of them are not easily accessible as they are located on the mountains, on the outer islands, in remote areas and in the deepest hamlets.
He cited an example of the 2019 election when the logistics were delivered to the Baluran National Park in remote area of Situbondo, East Java, a day before the voting day.
"The officers took the sea route due to the difficulty of land access to three polling stations in hamlets in this region," he said.
President Jokowi also wrote that Indonesians should be proud of the success of the elections because despite many obstacles, voter turnout reached almost 81 percent.
"Thank God, (the elections) were smooth and peaceful. Thank you to those who have worked for the success of the 2019 election," he said. (ICE)
Translated by: Estu Widyamurti
Edited by: M. Ersan Pamungkas