President Jokowi to Launch Import Facility for SMIs
By
Office of Assistant to Deputy Cabinet Secretary for State Documents & Translation &nbsp &nbsp
Date
30 Januari 2017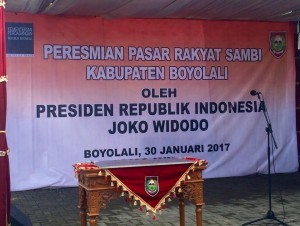 As part of his working visit to Yogyakarta Special Region and Central Java, President Joko 'Jokowi' Widodo is set to launch Small and Medium Industries (SMIs) Import for Export Purposes Facility (KITE IKM) in Tembaga Tumang Center for Craft, Cepogo Sub-district, Boyolali Regency.
On that occasion, Minister of Finance and Minister of Industry will sign a Memorandum of Understanding (MoU) on the Development of Export-oriented SMIs.
According to the data of the Ministry of Industry, the contribution of Indonesia's SMIs to national exports is still relatively low compared to other countries in the Asia Pacific region.
In 2015, the figure is only 15.8 percent, lower than many other countries in the Southeast Asia. For the record, the contribution of Thailand's SMIs to its export reached 29.5 percent, while the contribution of the Philippines' SMIs to its export reached 20 percent.
With the launch of this facility, SMIs are expected to get assistance to improve its export values.
This facility is also aimed at encouraging SMIs to be more active in its business sectors. Fiscal incentives and simple procedures are intended to rejuvenate SMIs. Thus, it could increase export values, improve contribution to Gross Domestic Product (GDP), create more job opportunities, and create tourist villages.
President Jokowi is also expected to distribute Smart Indonesia Card (KIP) in SMKN (Vocational School) 1, Mojosongo, Boyolali.  In the afternoon, the President is scheduled to have a silaturahmi (amicable gathering) with all ranks of Indonesian National Defense Forces (TNI) and Indonesian National Police (Polri) in Solo. President Jokowi is also slated to open the 2017 National Working Meeting (Rakernas) of Association of Indonesian Provincial Government (APPSI) in Karanganyar Regency on the evening. (UN/OZI/ES) (RAS/EP/YM/Naster)