President Jokowi Uses Vlogs to Communicate with People
By
Office of Assistant to Deputy Cabinet Secretary for State Documents & Translation &nbsp &nbsp
Date
25 April 2017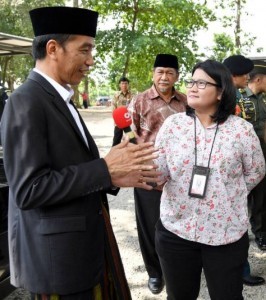 In order to make all Indonesians, particularly the young generation, aware of and take part in every Government's policy, President Joko 'Jokowi' Widodo chose to use social media to communicate with the people.
The President is also an active user of several social media such as Facebook, Twitter, and Youtube. "It will be more effective if we use social media. Therefore, I use video blogging (vlog) as a way to inform the Government's programs and communicate with young people. I also have Questions and Answers (Q&A) Session, where I ask the young generation regarding several problems which have arisen and I responded to them," President Jokowi said at a restaurant in Purwakarta, West Java, on Tuesday (25/4).
President Jokowi has been quite actively uploaded vlogs in his official Facebook and Youtube accounts. In his recent vlog, President Jokowi intentionally involved the young generation to actively participate in the development through their own ways.
"I think this kind of communication is important, so that we can inform people what the Government has done and inform the Government's programs that have been completed and that are still running," the President said.
That way of communication, President Jokowi added, will explain the development of each program and connect (the Government) with the people and young generation.
The President asserted that his vlogs are often made spontaneously from what he saw on the field, for example the vlog in Sei Gong Reservoir in Batam, Riau Islands, which was uploaded on 31 March 2017. "It was spontaneous. I often went to visit a location, for example in Sei Gong Reservoir, I was amazed at the number of workers. I asked them where they come from, some of them come from Medan, Tanjung Pinang, Balikpapan, Makassar, East Nusa Tenggara, and other regions. Then, spontaneously I made the vlog," the President explained.
The vlog featuring some workers of Sei Gong Reservoir was not only a formality, but there are objectives from those activities which the community have not yet realized. "It shows the people that the workers came from Sabang to Merauke, and that every project will open new job opportunities," the President concluded. (BPMI Setpres/ES) (RA/EP/YM/Naster)