President Jokowi Wants to Lower Toll Rates
By
Office of Assistant to Deputy Cabinet Secretary for State Documents & Translation &nbsp &nbsp
Date
22 Maret 2018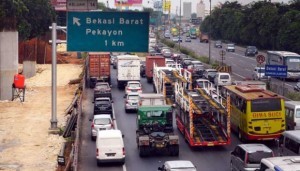 President Joko 'Jokowi' Widodo summoned Minister of Public Works and Public Housing Basuki Hadimuljono, Minister of Transportation Budi K. Sumadi, Toll Road Regulatory Agency (BPJT), and boards of toll road management companies, among others, Desi Arrayani (President Director of PT Jasa Marga), Wiwiek D. Santoso (PT Astra Infrastuktur), at the State Palace, in Jakarta, on Thursday (22/3) afternoon.
According to Minister Basuki Hadimuljono, at the meeting the President arose complaints from drivers on how to calculate toll tariff. Besides, a possibility of decreasing toll tariff was also discussed. Basuki explained, toll built in around 1980 the tariff was set at Rp200/km-Rp300/km. Then, in around 2000 until 2010, it was only Rp600/km-Rp700/km. Meanwhile, in 2010-2017 it was Rp900/km-Rp1,300/km.
If we view the inflation rate, construction cost, tax, interest, according to the Minister, the tariff rate is reasonable. As for the possibility to lower it, the Minister Basuki Hadimuljono said, it depends on its concession. If the concession is 35-40 years in average, the tariff reduction could be implemented by extending the concession period.
Moreover, a toll tariff reduction could be accepted by changing logistic class composition from class 2, 3, 4, and 5 to only class 2 and 3. "So it will reduce much, from Rp115,000-Rp144,000 to Rp96,000. Almost a half," Basuki said. (*/ES) (EPI/YM/Naster)