President Jokowi Welcomes Chair of National Assembly of Vietnam
By
Office of Assistant to Deputy Cabinet Secretary for State Documents & Translation &nbsp &nbsp
Date
7 Agustus 2023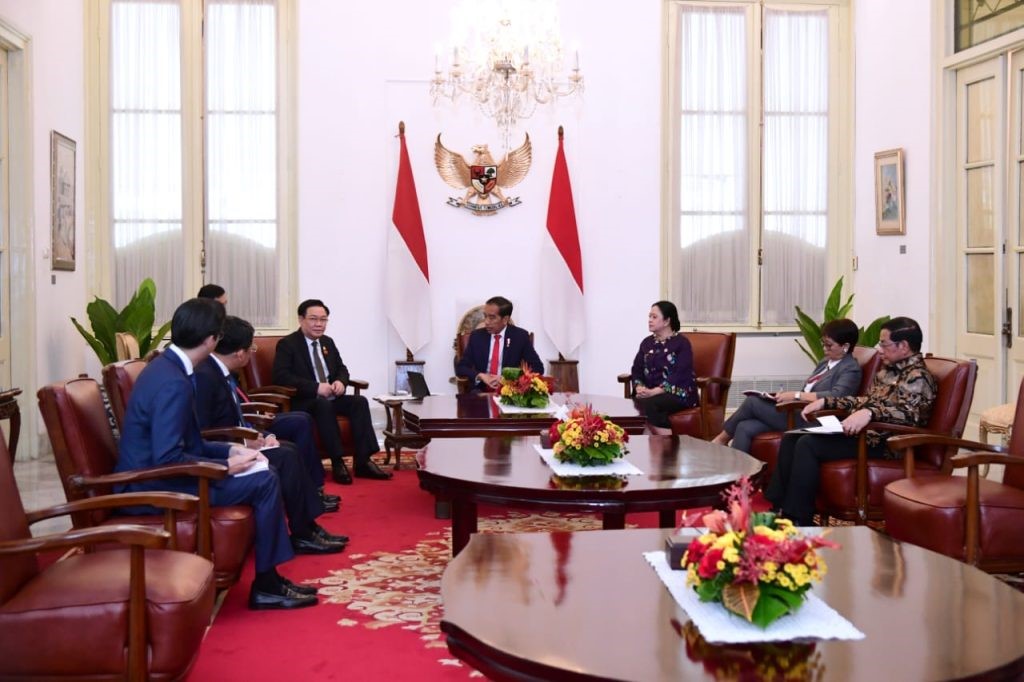 President Joko "Jokowi" Widodo Monday (08/07) received an honorary visit from the Chair of the National Assembly of Vietnam Vương Đình Huệ and his delegates at Merdeka Palace in Jakarta.
In his remarks, President Jokowi underscored the essential role of the parliament as a reflection of the people's representation.
"The President once again stated that the parliament is a reflection of the people's representation and the people are the focus of the work of ASEAN as mandated by the ASEAN Charter," Foreign Minister Retno L. P. Marsudi said in her press statement upon accompanying President Jokowi at the meeting.
According to Retno, there were four issues discussed by President Jokowi and the Chair of Vietnam's National Assembly. The first issue was borders of exclusive economic zone (EEZ).
"The President stated that the issue is solved, the negotiation is done, the agreement has been signed, and it is time for it to be ratified. For that reason, the President requested the support of the parliament for the ratification process," she said.
The second issue discussed by President Jokowi was trade and investment. Retno stated that Indonesia and Vietnam have a great trade value, with the value of bilateral trade reaching US$14.2 billion last year.
"Both parties are certain that the target of US$15 billion will be achieved because the target is 15 billion in 2028. The President also requested that trade obstructions, including non-tariff barrier can be removed, especially for pharmaceutical and sugar products from Indonesia. As for investment, Vietnam affirmed its commitment to continue to improving investment system in Vietnam," she said.
The third issue was renewable energy. President Jokowi stated that the parliament has a vital role to enable the Government to accelerate energy transition.
"As for ASEAN, Vietnam stated its full support of Indonesia's chairmanship," she remarked. (BPMI of Presidential Secretariat/UN) (DH/MMB)