Progressive Visa Imposed for Second Time Pilgrimage
By
Office of Assistant to Deputy Cabinet Secretary for State Documents & Translation &nbsp &nbsp
Date
25 Maret 2019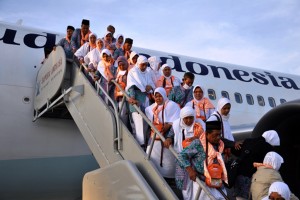 The Saudi Arabia Government will impose a newly-regulated progressive visa for the prospective Hajj pilgrims and the Regional Hajj Guide Team (TPHD) personnel identified as having been on a hajj before.
In response to the progressive visa requirement, Indonesian Ministry of Religious Affairs has issued Decree of Minister of Religious Affairs Number 140 of 2019 on the Payment of the Hajj Pilgrimage Cost (BPIH) Year 1440 H/2019 M and Decision of Directorate General for Hajj and Umrah Management (Ditjen PHU) Number 118 of 2019 on Visa Payments for Hajj Pilgrims and TPHD Year 1440 H/ 2019 M.
"For the prospective Hajj pilgrims and the TPHD personnel who have performed Hajj before, they will be charged a visa fee of SAR 2,000 or the equivalent of Rp7,573,340.00 with a SAR 1 rate of Rp3,786.67," Director for Internal Hajj Services at Ministry of Religious Affairs, Muhajirin Yanis said in Jakarta on Sunday (24/3).
The exchange rate, Muhajirin continued, was based on assumptions in the BPIH's ratification agreed by the House of Representatives (DPR) and the Government last February.
Muhajirin also said that the visa payments are carried out together with the payment of BPIH to the accounts of the Hajj Fund Management Agency (BPKH) at the Partner Banks for the Hajj Fund Scheme (BPS-BPIH) based on Siskohat (The Computerized Integrated Hajj System) database.
Muhajirin further said that the prospective Hajj pilgrims and TPHD personnel who are subject to progressive visa are based on e-Hajj data issued by Saudi Arabia Government. However, as preliminary data, Ministry of Religious Affairs will do an early identification through Siskohat. The Siskohat data will also be the initial basis for the imposition of progressive visa fee that must be paid during repayment.
"There is a possibility that the Siskohat data shows prospective Hajj pilgrims have not been in a hajj, but the e-Hajj states otherwise. Then, the prospective pilgrims must pay the progressive visa. If not, the visa will be canceled." Muhajirin stated.
On the other hand, if Siskohat data declared a hajj status and an obligation for visa payment but the Saudi Government said otherwise, the visa fee will be returned. The repayment process is conducted through the proposal of the Ditjen PHU to BPKH.
"The deadline for the visa payment is no later than seven days after notification from the Provincial Office of Ministry of Religious Affairs. If the deadline is exceeded, the Hajj visa is considered null and the pilgrims cannot perform Hajj in the current year," Muhajirin explained.
He also informed that the pilgrims who canceled and have paid for the visa will not get the visa fee back. However, the BPIH, whether the initial deposit or the paid off one, will be returned.
"As for the pilgrims who postpone departures and pay for the visa, the visa fee for the next departure will be carried out in accordance with Saudi Arabia's Law," Muhajirin said, adding that the repayment of phase I BPIH 1440H/2019M will last until April, 15. (Ministry of Religious Affairs PR/ES)
Translated by : Fairuzzamani Inayatillah
Edited by : Ridwan Ibadurrohman, Mia Medyana