PVMBG: Mount Agung Still on Alert Level
By
Office of Assistant to Deputy Cabinet Secretary for State Documents & Translation &nbsp &nbsp
Date
23 Januari 2019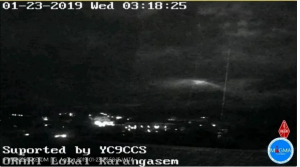 The Volcanology and Geological Hazard Mitigation Center (PVMBG) of Ministry of Energy and Mineral Resources has declared Mount Agung in the island of Bali is still on alert level (level three).
The mitigation center has also set Estimated Zone Dangers of within the radius of 4 kilometers from the r mountain's peak.
"The zone is dynamic and continues to be evaluated and can be changed at any time based on the recent development of Mount Agung observation data," Head of the Communication Bureau, Public Information Services, and Cooperation of the Ministry Agung Pribadi said in a press release on Wednesday (23/1).
Ahead of the rainy season, the PVMBG urges the people who live and work near riverbanks located in the upstream in Mount Agung to remain alert of the potential secondary dangers such as lava flow due to a heavy rain.
Meanwhile, Mount Agung observation post recorded an eruption quake, four shallow volcanic quakes, an earthquake blowing, a local tectonic quake, a scale II MMI quake and five times far tectonic earthquake on 22 January 2019. The observation post also recorded an eruption quake, a quake caused by magma fluid movement, and a shallow volcanic earthquake on 23 January 2019 (00:00-06:00 Central Indonesian Time/WITA).
Based on a visual observation, the mount has been covered in fog since yesterday until this morning; light to moderate winds blows to east and west. The 2,000 meter thick gray smokes are also visible on the mount's main crater, the release said.
Although no high volcanic activity was has been reported, the PVMBG also urged local residents, mountain climbers as well as tourists to refrain from coming near the mountain, climbing the mountain, or doing any activities in the Estimated Zone Dangers in all areas within a 4 km radius of the mountain's peak crater.
"However, it is safe for activities outside the area but do remain alert at all times," Agung said at the end of the release. (Biro KLIPK KESDM/EN)
Translated by: Galuh Wicaksono
Edited by: Muhammad Ersan Pamungkas