Religious Affairs Ministry to Hold Isbat Meeting on Monday to Decide 1 Shawwal 1440H
By
Office of Assistant to Deputy Cabinet Secretary for State Documents & Translation &nbsp &nbsp
Date
29 Mei 2019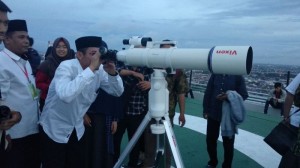 The Ministry of Religious Affairs through Directorate General for Islamic Guidance will hold an Isbat (confirmation) deliberation to decide Eid al-Fitr or 1 Shawwal 1440H, on Monday (3/6), at the H.M. Rasjidi Auditorium of the Ministry of Religious Affairs, Jalan MH. Thamrin No. 6, Jakarta.
"Minister of Religious Affairs Lukman Hakim Saifuddin is scheduled to lead the Isbat deliberation where the Ministry will determine this year's Eid Day for all Muslims in Indonesia," Director General for Islamic Guidance Muhammadiyah Amin said in Jakarta, Wednesday (29/5).
According to Amin, the Isbat deliberation will be attended by Ambassadors of friendly countries, the Supreme Court, the Meteorology, Climatology, and Geophysics Agency (BMKG), the National Aeronautics and Space Agency (LAPAN), the Geospatial Information Agency (BIG), the Bosscha Bandung Institute of Technology (ITB), Planetarium, Falak (astronomy) experts from various Islamic Organizations, Echelon I and II Officials of the Ministry of Religious Affairs; and Hisab (astronomical calculations) as well as Rukyat (visual observations of the new moon) Teams of the Ministry of Religious Affairs.
"The deliberation constitutes a form of togetherness between the Ministry of Religious Affairs and the Islamic Organizations as well as related institutions in determining the beginning of the qamariyah months, especially Ramadan, Shawwal, and Dzulhijjah," Amin explained.
In the meantime, Director of Islamic Affairs and Sharia Fostering Agus Salim explained that the Isbat deliberation will begin with the exposure of the position of the hilal (new moon) based on data regarding Hisab that are collected by astronomers. "Visual observations of the new moon will be held on Monday afternoon," he added.
The Isbat deliberation, which is a closed-door meeting, Agus further explained, is slated to take place after the Maghrib (Dawn prayers) and led by the Minister of Religious Affairs where the results of rukyatul hilal (observations of the new moon) in 105 locations around the country will be reported. "The report will be used as the basis to decide the beginning of 1 Shawwal," the Director said.
After the deliberation, Minister of Religious Affairs will hold a press conference to announce the Government's decision about the Eid al-Fitr or 1 Shawwal 1440H.
Here are the rukyatul hilal locations in 34 provinces:
Aceh : Chiek Kuta Karang Observatory; Lhokseumawe Bukit Poly Komplek Perta Aron; Aceh Jaya Gunung Cring Cran; Suak Geudeubang Beach, West Aceh Regency; Lhok Keutapang Beach, South Aceh, Simeulue; Desa Nancala Beach, Teupah Barat; Indonesian 0 km Monument, City of Sabang; and Ujong Manggeng Beach, Manggeng Subdistrict, ABDYA;
North Sumatra: North Sumatra Governor Office, 9th Floor; and OIF UMSU Observatory;
West Sumatra: Kebudayaan Building, 4th Floor, Culture Office;
Riau : Prapat Tunggal Beach, Bengkalis Subdistrict;
Riau Islands: Bukit Cermin;
Jambi : Odua Weston Hotel;
South Sumatra : Aryaduta Hotel;
Bangka Belitung : Penagan Beach; Tanjung Pandam Beach; and Tanjung Kalian Muntok Beach;
Bengkulu : Bengkulu Provincial Government Employee House;
Lampung : POB Bukit Gelumpai, Canti Kalianda Beach, South Lampung; Labuhan Jukung Beach, Kampung Jawa Hamlet, Pesisir Barat Regency;
Special Capital Region of Jakarta: Jakarta Religious Affairs Office 7th Floor; Al-Musyari'in Basmol Mosque, West Jakarta; Karya Island, Seribu Islands; and DKM KH. Hasyim Asyari Mosque;
West Java: POB Cibeas Pelabuhan Ratu; Bosscha Lembang Bandung, West Bandung Regency; Gunung Babakan, City of Banjar; Santolo Beach, Pamengpeuk, Garut Regency; Cipatujah Beach, Tasikmalaya Regency; Gebang Beach, Cirebon Regency; Astha Hannas High School, Binong, Subang Regency; and Pondok Bali Beach, Subang Regency;
Banten : Lighthouse of Sea Transportation Department, Anyer 0 km, Serang;
Central Java : Al-Husna Grand Mosque Tower, Semarang, Central Java; Gribangun Mosque, Banyumas; Jatimalang Beach, Purworejo; Assalam Observatory Sukoharjo; Kartini Beach, Jepara; STAIN Pekalongan; Ujungnegoro Beach, Kandeman Batang; Pedalen Beach, Kebumen; Karangjahe Beach, Rembang; Alam Indah Beach, City of Tegal; Tanjungsari Beach, Pemalang; Universitas Muria Kudus (UMK); Mangrove Park, Kaliwlingi Beach, Brebes; Kendal Seaport;
Special Region of Yogyakarta : POB Syekh Bela Belu, Bantul Parang Tritis Yogyakarta;
East Java : Sunan Drajat Beach/Tanjung Kodok Paciran Lamongan; Banyu Urip Hill, Senori Subdistrict, Tuban Regency; Lapan, Jl. Watukosek Gempol, Pasuruan Regency; Mount Sekekep, Wagir Kidul, Pulung Subdistrict, Ponorogo Regency; Helipad of the Indonesian Air Force (AURI), Ngliyep, Malang Regency; Serang Beach, Blitar Regency; Srau Beach, Pacitan; Wonotirto Hill, Blitar; Nyamplong Kobong Beach, Jember; Mount Sadeng, Jember; Pacinan Beach, Situbondo; Pancur Beach, Alas Purwo Banyuwangi; Ambat Beach, Tlanakan Pamekasan; Condrodipo Hill, Gresik; Gebang Beach, Bangkalan; Wonocolo Hill, Bojonegoro; Gili Island, Probolinggo Regency; Sapo Beach, Sergang Village, Batuputih Subdistrict, Sumenep Regency; Kalisangka Beach, Kangean Sumenep; Bawean Beach, Gresik Regency; Satuan Radar (Satrad) 222 Ploso in Kaboh, Jombang Regency; Gumuk Klasi Indah Hill, Banyuwangi; Taneros Beach, Sumenep;
West Kalimantan : Pantai Indah Kakap, Sungai Kakap Subdistrict, Kubu Raya Regency;
Central Kalimantan : Aquarius Hotel, Jl. Imam Bonjol Palangkaraya;
East Kalimantan: Asma'ul Husna Tower of Baitul Muttaqin Mosque, Islamic Center Samarinda;
South Kalimantan : Rooftop of Bank Kalsel, Banjarmasin; Rumpiang Bridge, Marabah; Pagatan Beach, Tanah Bumbu : Rooftop of Dafam Syari'ah Hotel, Banjarbaru; Mount Kayangan, Pelaihari;
North Kalimantan: Tanjung Selor Gunung KNIP;
Bali : Patra Jasa Hotel, Kuta Beach, Badung, Bali; Munduk Asem, Rening, Negara, Jembrana;
West Nusa Tenggara : Loang Baloq Recreation Park; Desa Kiwu Village, Kilo Subdistrict, Dompu Regency; and Poto Batu Hill, Taliwang Subdistrict, West Sumbawa Regency;;
East Nusa Tenggara : Nurul Hidayah Mosque;
South Sulawesi : Sumpang Binangae Beach, Barru Regency;
West Sulawesi : Tanjung Mercusuar Sumare, Simboro Subdistrict, Mamuju Regency;
Southeast Sulawesi: Wolulu Beach, Watubangga Subdistrict, Kolaka Regency; and Buhari Village, Tanggetada Subdistrict, Kolaka Regency;
North Sulawesi : Mtc Apartment Parking Lot, City of Manado;
Gorontalo : Bulango Raya Village, Tomilito Subdistrict, North Gorontalo Regency;
Central Sulawesi : Hilal Tower of the BMKG, Marana Village, Sindue Subdistrict, Donggala Regency;
Maluku : Wakasihu Village, Leihitu Barat Subdistrict, Central Maluku Regency; Latuhalat Beach, Nusaniwe Subdistrict, City of Ambon; and Desa Larike Village, Leihitu Barat Subdistrict, Central Maluku Regency;
North Maluku : POB North Maluku, Desa Ropu Tengah Balu Village; and POB BMKG Afe Taduma;
Papua : Lampu Satu Marauke Beach;
West Papua : Fak-Fak Grand Mosque Tower; and Tanjung Saoka, City of Sorong.
Translated by : Rany Anjany Subachrum
Edited by : Yuyu Mulyani