Religious Ministry to Follow-up Extra Hajj Quota Granted by Saudi Arabia
By
Office of Assistant to Deputy Cabinet Secretary for State Documents & Translation &nbsp &nbsp
Date
16 April 2019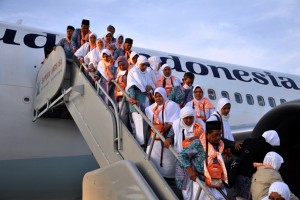 The Indonesian Ministry of Religion Affairs has pledged to be 'all out' to add newly granted 10,000 hajj quota given by the Kingdom of Saudi Arabia for Hajj season this year.
The statement was delivered by Minister of Religion Affairs Lukman Hakim Saifuddin following the decision of King of Saudi Arabia King Salman bin Abdulaziz al-Saud to grant an additional 10 thousand hajj quota for Indonesia during his meeting with President Joko 'Jokowi' Widodo in Riyadh, Saudi Arabia, Sunday (14/4).
"This is the second time that King Salman has agreed to our request for additional hajj quotas," he said, adding that it shows the Saudi Arabian Government gives a special attention for Indonesia.
Furthermore, Lukman stated that the additional quota was included in the Saudi e-Hajj system and the Ministry would immediately arrange a discussion with the House of Representative (DPR) and the Hajj Fund Management Agency (BPKH).
According to the Minister, the discussion needs to be done immediately because the additional quota brings implications for a number of complex matters such as extra costs for organizing hajj and the provision of hajj services both at home and abroad.
"Together with the DPR, we have agreed on the cost of the 2019 Hajj using optimization funds of Rp7,039 trillion to 204,000 pilgrims. For the 10,000 new pilgrims from the additional quota, additional costs of no less than Rp346 billion are needed," he said, adding that there would be an additional 25 flight groups and 125 new flight group attendants due to the addition of this hajj quota.
Furthermore, the addition of quotas, he added, will also affect the process of preparing pilgrimage documents in the country and the current visa issuance process requires biometric records that are currently running and are almost complete in several regions.
Almost all procurement services, Lukman continued, will also be affected. He cited the example of accommodation in Madinah that in the Markaziah area—the closest distance to the Prophet's Mosque— that are almost full.
In addition to accommodation, other matters that must also be prepared concern transportation buses and baggage charges. "All of it needs costs, either direct costs or indirect costs," he added. (Humas Kemenag/ES)
Translated by: Galuh Wicaksono
Edited by: Muhammad Ersan Pamungkas