Section I-III of Balikpapan-Samarinda Toll Road to Operate in March
By
Office of Assistant to Deputy Cabinet Secretary for State Documents & Translation &nbsp &nbsp
Date
12 Februari 2019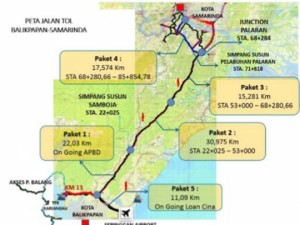 The construction progress of Balikpapan-Samarinda toll road with a total length of 99.35 kilometers has reached 85.7 percent completion.
Ministry of Public Works and Public Housing has set the target that the toll road, which is the first one in Kalimantan island, can be fully operational in April this year.

A press release from Ministry of Public Works and Public Housing on Tuesday (12/2) stated that the Balikpapan-Samarinda toll road comprises 5 sections. Progress of section I, that connects Balikpapan and Samboja spanning 22.03 kilometers long, is already 96.82 percent and the construction is targeted to complete in April.
"Progress of section II, connecting Samboja and Muara Jawa stretching for 30.98 kilometers is 83.73 percent complete, while progress of Section III connecting Muara Jawa and Palaran which is 17.50 kilometers is 97.21 percent complete. Construction of both sections will be completed in March 2019," the release reads.
In addition, construction progress of 17.95-km toll road Section IV connecting Palaran and Samarinda reaches 75.33 and the construction is targeted to complete in July. Meanwhile, construction progress of toll road Section V connecting Balikpapan and Sepinggan Airport is 68 percent and is set to be completed in August.
According to the Ministry, Balikpapan-Samarinda toll road will significantly shorten travel time between Balikpapan city and Samarinda city from 3 hours to only 1 hour. The toll road is also expected to improve connectivity and reduce logistics cost and in turn it is expected to boost development of industrial areas in the fields of palm oil, coal, oil and gas, and agriculture.
For the record, the Balikpapan-Samarinda toll road with a total investment of Rp9.9 trillion is built under the Government and Business Entities Cooperation (KPBU) scheme. State-owned toll road operator PT Jasamarga Balikpapan-Samarinda, which is the Toll Road Business Agency (BUJT), constructed Section II, III, and IV of the toll road with a total length of 66.43 kilometers. Meanwhile, Section I and Section V are supported by the Government through the State Budget and the regional budgets in a bid to increase financial feasibility. The toll road with 80km/hour-design speed has 40 years concession period as of the effective date on 9 June 2016. (ES)
Translated by : Rany Anjany Subachrum
Edited by : Muhardi
Proofread by : M. Ersan Pamungkas