Sharp, LG to Relocate Factories to Indonesia
By
Office of Assistant to Deputy Cabinet Secretary for State Documents & Translation &nbsp &nbsp
Date
17 Juni 2019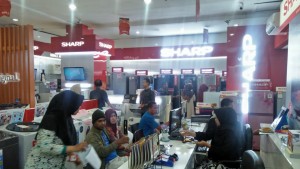 Japanese electronica giant Sharp and South Korean electronics giant LG have announced plan to relocate a number of their factories from Thailand and Vietnam to Indonesia, Ministry of Industry has reported.
"This will provide a large amount of employment," the Ministry's Director of Electronics and Telematics of Janu Suryanto said as quoted in a press release on Sunday (16/6).
Sharp will relocate its two-tube washing machine factories from Thailand to Karawang International Industrial City (KIIC) in West Java province, while LG will relocate its air conditioner factories from Vietnam to Legok in Tangerang, Banten province.
"They will start the production and market 25 thousand units of air conditioners in September 2019," Janu said, adding that the two companies will also increase the production to 50 thousand units and also target the export market in ASEAN.
The Ministry also has stated that manufacturing industry is one sector that contributes significantly to total investment in Indonesia.
In the first quarter of 2019, non-oil/gas processing industry contributed 18.5 percent or Rp16.1 trillion to the realization of domestic direct investment (PMDN) and the manufacturing industry also contributed to 26 percent or US$1.9 billion to foreign direct investment (PMA).
"Sharp and LG's investment accounts for around hundreds of billions of rupiah," Janu added.
In the meantime, Minister of Industry Airlangga Hartarto said Indonesia has the opportunity amidst the ongoing United States and China trade war because the country has a strong economic base in facing the current global situation.
"Amidst this trade war, investors see our country in a safe zone," the Minister said.
Indonesia, Airlangga added, has also entered the investment safe zone since 20 years ago at the start of the reformasi period.  "As a country with fairly stable geopolitical conditions, Indonesia has increasingly attracted more and more foreign investors," he said.
For the record, the Standard and Poor's (S&P) Global Ratings has upgraded Indonesia's long-term debt rating or sovereign credit rating from BBB-/stable to BBB/stable without going through BBB-/positive. Thus, Indonesia now has hold an investment grade status from three international credit rating agencies: S & P, Moody's, and Fitch.
Indonesia is being seen as one of the countries that has been serious in developing digital economy and it has brought a positive value for the business people of the world.
"In fact, Japanese Prime Minister Shinzo Abe sees Indonesia as a hub for digital economy in Southeast Asia," Airlangga said.
One measure that needs to be done is to increase competitiveness of national manufacturing industry so it can be more competitive with industries in neighboring Thailand and Vietnam, he added.
"Indonesia remains attractive for investments in electronics, garment, footwear and food and beverages-based industries," Airlangga added. (Humas Kemenperin/ES)
Translated by: Galuh Wicaksono
Edited by: Muhardi/Muhammad Ersan Pamungkas