Sri Mulyani Launches Third Generation of State Revenue Module
By
Office of Assistant to Deputy Cabinet Secretary for State Documents & Translation &nbsp &nbsp
Date
23 Agustus 2019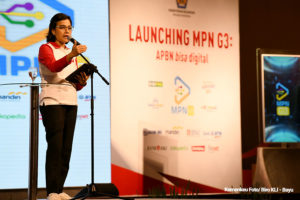 In a bid to provide better services in tax payment, Minister of Finance Sri Mulyani Indrawati on Friday (23/8) inaugurated the Third Generation of State Revenue Module (MPN G3).
Compared to the second generation of MPN, the MPN G3 can process up to 1,000 transactions per second, significantly increasing from only 60 transactions per second.
Payment at the MPN G3 can also be done through e-wallets, bank transfers, virtual accounts, and credit cards carried out by revenue agents known as other perception institutions such as e-commerce, retailers, and fintech, she said.
E-commerce platforms like Tokopedia, Finnet Indonesia, and Bukalapak have been appointed by the Ministry to become other perception institutions, bringing the total number of banks, posts and perception institutions into 86 agents.
Through this module, each payer can access a single sign-on of state revenue portal to get billing codes for all types of state revenue that can be continued in the payment process.
According to Sri Mulyani, modernization of the state revenue system and management of the State Budget aims to meet three demands, namely increasing collectability of state revenue, facilitating payers to fulfill their obligations, and adapting to changes in information technology.
In addition to inaugurating MPN G3, Sri Mulyani also inaugurated a number of Ministry's other digital innovations, namely integration of tax payments on regional spending, virtual accounts for treasurer spending, and digital payments and marketplaces for spending money on supplies. It is expected that all these innovations can create digital-based State Budget, she said.
For the record, the MPN is one of the main systems at Ministry of Finance. In 2018, out of Rp2,064 trillion of state revenue, Rp1,904 trillion was deposited through the MPN, or around 92 percent. The rest comes from Tax Warrants and direct deposits to the state treasury account.
The MPN also processed 95.1 million transactions, which included Rp94.9 million transactions and 174 thousand transactions in US Dollars. As of August 15, 2019, the MPN had processed 58.3 million transactions in state revenues at 83 revenue agents. (Humas Kemenkeu/ES)
Translated by: Galuh Wicaksono
Edited by: Muhammad Ersan Pamungkas