State Apparatus Banned from Using Gov't Cars for Mudik
By
Office of Assistant to Deputy Cabinet Secretary for State Documents & Translation &nbsp &nbsp
Date
30 Mei 2019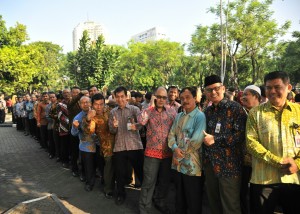 State civil Apparatus (ASN) are prohibited to use government cars for mudik (annual exodus ahead of Eid Day), Minister of State Apparatus Empowerment and Bureaucratic Reforms Syafruddin has announced.
"Government's cars should only be used for government-related work and are prohibited for personal use," Syafruddin said in Jakarta, Monday (28/5).
The Minister has also instructed state apparatus not to use a motorcycle for Eid mudik trip because of its riskiness. He provided several options for a safe and comfortable trip such as to send their motorcycles by train, to go by buses or trains, or to travel by free-transports organized by many institutions.
The Minister went on to say that state apparatus is also prohibited to receive Eid parcels in any form, adding that the parcels can be indicated as gratification or bribery. If received, he added, the greeting cards attached on the parcels could be kept while the parcels should be returned to the sending party.
"State apparatus who receive the parcels can expect the risk of being reported to KPK," the Minister stated.
For the record, the Corruption Eradication Commission has issued Circular Number B/3956/GTF.00.02/01-13/05/2019 on calls for prevention of gratification related to religious holidays.
The circular states that the ban on receiving gratification in the forms of money, gifts or parcels, facilities, and other forms related to the state apparatus' positions. Acceptance of gratification can cause conflict of interests, conflict with regulations/codes of ethics. and risks of criminal sanctions.
The circular also states the obligation to report the receiving end to the KPK within 30 days after the date of receiving. This matter is also regulated in Law Number 20/2001 on Amendment to Law Number 31 of 1999 on Corruption Eradication.
In addition, state apparatus is also prohibited from requesting funds, donations, and gifts as holiday allowances (THR) to the public, companies, or other state administrators, either verbally or in writing. The act can be regarded as corruption.
The circular also stipulates that gratification in the form of food packages that are easily damaged and expired should be distributed to orphanages, nursing homes, and the people in need and should be reported to the respective institutions by completing submission documentation. In the meantime, the institution should report the recapitulation of the report to the KPK.
Head of Ministries/Institutions/Organizations/Regional Governments and State-owned Enterprises/Regional-owned Enterprises are expected to take preventive actions in corruption by urging their subordinates to reject gratification. They can also issue circulars through mass media aimed at stakeholders so as not to provide gratification of any kind to state administrators, the circular states. (HUMAS MENPANRB/Humas Kementerian PANRB/ES)
Translated by : Fairuzzamani Inayatillah
Edited by : Ridwan Ibadurrohman, M. Ersan Pamungkas