The Country Will Move Forward in the Hands of the Youth, President Jokowi Says
By
Office of Assistant to Deputy Cabinet Secretary for State Documents & Translation &nbsp &nbsp
Date
28 Oktober 2019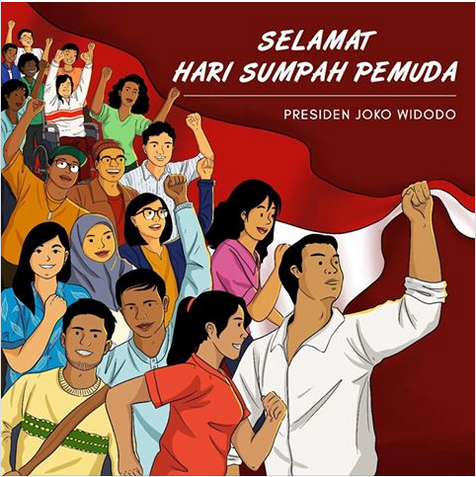 On the commemoration of the 91st Youth Pledge Day on 28 October this year, President Joko "Jokowi" Widodo called on the Indonesian youth to join hands in building a better Indonesia.
"The country will advance in the hands of the youth," President Jokowi tweeted on his Twitter account @jokowi.
According to the President, 91 years has passed but the spirit of the pledge of Indonesian youth from across the archipelago on 28 October 1928 still prevails today.
Speaking separately, Minister of Youth and Sports Zainuddin Amali said that the previous generation was able to get out of the traps of ethnicity, religious, racial, and cultural mindset towards unity as a nation.
Thus, the task of our youth today is to open views beyond the boundaries to welcome a better future, he added.
"Young people of Indonesia, the world is waiting for you. Fight and create ideas and dreams. Your sacrifice and struggle will never be in vain in changing the world," the Minister said.
The Youth Pledge was a declaration made on 28 October 1928 by young Indonesian nationalists in the Second Youth Congress. They proclaimed three ideals: one motherland, one nation and one language. (ES)
Translated by: Estu Widyamurti
Edited by: M. Ersan Pamungkas