This Year's Independence Day is More Festive With Innovation
By
Office of Assistant to Deputy Cabinet Secretary for State Documents & Translation &nbsp &nbsp
Date
17 Agustus 2016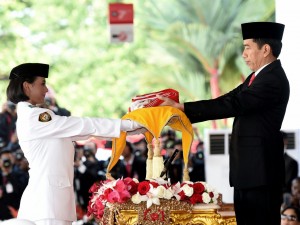 Today is the 71st Anniversary of the Proclamation of Independence of the Republic of Indonesia which is  celebrated by Indonesian people across the country, including by the people in the Presidential Palace complex.
Every year, the Presidential Palace conducts a ceremony to celebrate the day.
This year's celebration is different from those of  last years and more festive. Starting the ceremony, parade of national flag was carried out from the National Monument (Monas) to the Merdeka Palace. In the previous ceremonies, the national flag was only placed on the honorable table during the ceremony.
The parade which has never been done before attracted public's attention. Traditional horse-drawn carriage, the Ki Jaga Raksa, which was sent from Purwakarta, Marching Band of  Presidential Security Details (Paspampres), students, and cavalry also participated to enliven the parade.
Moreover, before the ceremony was started, art performances were performed to the guests and the people who were in the Merdeka Palace complex, including Colossal Dance from Guruh Soekarno Putra and Rampak Doll Dance from Bengkulu. Several patriotic songs were performed by Dira Sugandhi and GBN in collaboration with Choir from Pangudi Luhur Junior High School also evoked the spirit of the guests and participants.
In the event, President Joko 'Jokowi' Widodo shook hands with several guests as walking to the podium. People in the location also welcomed the President.
At 09.40 a.m. Western Indonesian Time, sound of horns marked the beginning of the ceremony, that was followed by the second sound of horns marked the flag-raising team members to enter the field.
Col. Inf. Putra Widiastawa acted as commander in the flag-raising ceremony. The ceremony began when the Commander of the Ceremony gave reports to the President as the Inspector of the Ceremony and the sound of cannon echoed for 17 times.
Nilam Sukma Pawening, a student who represented Jakarta were chosen to carry the national flag from President Jokowi, along with three other team members, namely Rahmat Duhe from Gorontalo Province, Muhammad Akbar from West Kalimantan, and Muhammad Aditya Ersyah Lubis from Banten Province.
On the event, there were several figures for public development and medalists of Olympiad among the President's guests. "By inviting them, public will notice them. There will be a dialog with President as well, and probably the Government will make programs for them," Head of Presidential Secretariat Darmansjah Djumala said.
One of the President's guests is Ryan Timothy Abisha, an inspirator who give concrete constribution to the society though his invention. Ryan invented Smart Trash Bin, a trash bin that can automatically sort out the types of waste. "Smart trash bin can automatically sort out the types of waste, either organic, inorganic, and iron waste."  Ryan said during the preparation of  71st Anniversary of the Proclamation of Independence of the Republic of Indonesia. Smart trash bin won a silver medal at the International Exhibition for Young Inventors in China and awards at the Japan Special Award and Macau Special Award.
For the record, this year's Independence Day was aired in 360 degree live streaming from President Joko Widodo's official YouTube account. Through this technology, the audience connected to an internet connection will be presented with a video display that resembles viewpoint as situated in the real live. The innovation was highly appreciated by the netizens. Besides live streaming from President Joko Widodo's official YouTube, the ceremony can also be watched through Periscope application in President Jokowi's official twitter account. (BPMI/EN) (RAS/EP/YM/Naster)