Thousands of Fishing Vessels, Fishermen Certified as of February 2019: Transportation Ministry
By
Office of Assistant to Deputy Cabinet Secretary for State Documents & Translation &nbsp &nbsp
Date
22 Februari 2019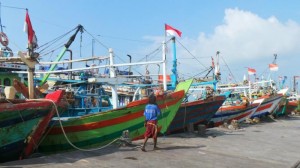 Ministry of Transportation as of 20 February 2019 has verified 33,052 fishing vessels and certified 232,414 fishermen, according to Directorate General of Sea Transportation of Ministry of Transportation.
"Until the end of January 2019, the number of fishing vessels with less than 7 GT—Gross Tonnage, a measure of a ship's overall volume— that had been certified reached 30,529 vessels. While as of 20 February 2019, the figure has increased to 33,052 vessels," said Hengki Angkasawan, Head of the Communication and Public Information Bureau of Ministry of Transportation in Jakarta, Thursday (21/2).
As many as 19,694 vessels out of the 33,052 vessels, he continued, are located in Java, while the other 13,338 vessels are from outside Java.
He went on to explain that the vessel verification aims to fulfill the seaworthiness of the vessel. Meanwhile regarding the fishermen certification conducted by the Ministry's Human Resources Development Agency (BPSDM), Hengki said that those who have been certified received a 'fisherman book' as one of the must-have documents for fishing activity. He added that the Government has remained committed to simplify and speed up the certification process.
"To display the commitment, Minister of Transportation has ordered the Directorate General of Sea Transportation to directly contact the vessels' owners and fishermen in their respective area," Hengki said.
Ministry of Transportation and Ministry of Maritime Affairs and Fisheries also work together to complete the draft of cooperation agreement on legal status of fishing and marine activities and to exchange vessel data to prevent duplication. (Public Relations Ministry of Transportation / ES)
Translated by: Estu Widyamurti
Edited by: Muhardi
Proofread by: Mia Medyana