Transportation Minister to Apply Container-based System
By
Office of Assistant to Deputy Cabinet Secretary for State Documents & Translation &nbsp &nbsp
Date
2 Februari 2018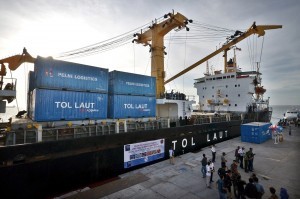 In an effort to further develop the ongoing Sea Toll program, which has succeeded in reducing price disparities, particularly in eastern Indonesia, Ministry of Transportation in the near future is geared to change the sea toll system from transport-based to container-based system.
"So, if we want to send containers through a transport-based system, of course we have to pay no matter how many the contents are. However, we will detect the volume for each city, be it 100 containers, 200 containers, or 50 containers. We will send them based on the needs," Minister of Transportation Budi K. Sumadi said during a coordinating meeting held by Ministry of Trade, in Jakarta, Thursday (1/2).
According to the Minister, this step is taken following the level of re-loading that has not been optimal and the container-based system is also believed to further reduce transportation costs.
"Given that the re-loading has not been optimal yet, we can reduce the cost approximately by 30 – 40 percent with a container-based system. We can use the money to increase the lane and frequency of ships docking in ports," the Minister said.
However, Budi admitted that currently there are still areas where ships dock fortnightly only and this measure is expected to increase the frequency of ships docking in those areas.
In addition to changing the sea toll system, Budi said the Ministry would also soon re-structure ports throughout Indonesia to make them cheaper, faster, and more transparent.
"We will apply online Delivery Order (DO). Traditionally, the DO is carried out from door to door and the goods must be present. This will take time," the Minister explained.
To this end, change in the customs system and consistency of related parties to apply this online DO system are needed, the Minister said.
Furthermore, Budi also expressed his hope that Tanjung Priok Seaport, which handles 60% of goods shipped in Indonesia, can operate seven days a week because if it continues to operate five days only, distribution of goods from the areas around Jakarta will be affected.
"By operating the Port seven days a week instead of five days a week, we want to make (the process) easier. We want the goods to be processed on Saturdays and Mondays as well," the Minister said, hoping that the new operational time will be implemented in March this year.
Regarding the Sea Toll program, the Minister plans to divert some sea-lanes which are deemed unproductive. (PR of the Ministry of Transportation/ES) (MUR/EP/YM/Naster).