Transportation Ministry Focuses on Safety Aspect Ahead of This Year's Mudik
By
Office of Assistant to Deputy Cabinet Secretary for State Documents & Translation &nbsp &nbsp
Date
22 April 2019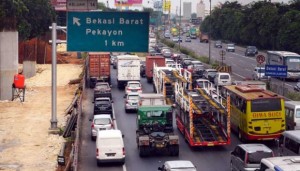 In a bid to provide convenience and to ensure safety ahead of this year's mudik (an annual exodus ahead of Eid al Fitr) and reverse flow traffic (arus balik), Minister of Transportation Budi Karya Sumadi has called on all stakeholders to provide transportation that meets safety standards.
"We have gathered all stakeholders so that we can better prepare for mudik transportation this year," the Minister said in Jakarta on Monday (22/4).
Budi went on to say that safety aspect is a major concern and he pushed for ramp checks to be carried out on all transportation modes.
"Ramp checks may be carried out independently on the buses by Ministry of Transportation and Transportation Agency and repairs can be made based on the results of the ramp checks. As for the airlines, in addition to the ramp checks on airplanes, they must also ensure that the pilots are in a healthy condition," Budi said.
In land transportation sector, the Minister called on the public not to ride motorbikes given the high rate of accident of up to 70 percent.
"The number of accidents is very high on land transportation, primarily two-wheeled vehicles. Therefore, we recommend the public not to ride motorbikes to reduce accidents," Budi said, while suggesting the public to join the free mudik program held by the Ministry, be it  by bus, train or ship.
In the meantime, in order to anticipate traffic congestion at the Jakarta-Cikampek toll road, the Ministry will coordinate with the police for traffic engineering, either through one way traffic system three days before Eid Day and three days after the D day, or any other schemes depending on the situation on the ground.
"We will coordinate with the police regarding traffic engineering to ease congestion," Budi said, adding that he would conduct direct monitoring at certain points such as at toll exits or rest areas in which traffic buildup is more likely to occur.
For air transportation sector, Budi called on all airlines to control ticket prices. "Air and land transportation modes remain a favorite for the public although it will shift due to high tariffs. We will discuss the tariff with the airlines," Budi said.
In railway sector, Budi called on the provider to increase capacity of the train particularly for some destinations with more demands and for sea transportation, he also asked the operator to increase capacity of ships. (Ministry of Transportation PR/ES)
Translated by: Muhardi
Edited by: M. Ersan Pamungkas