We Move Forward through Infrastructure Development: President Jokowi
By
Office of Assistant to Deputy Cabinet Secretary for State Documents & Translation &nbsp &nbsp
Date
18 Oktober 2019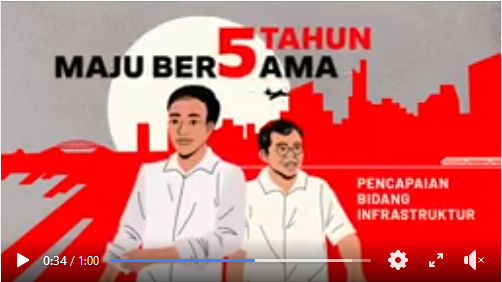 Ahead of the end of his first term as President of the Republic of Indonesia, President Joko "Jokowi" Widodo unveiled the success of infrastructure development in the past five years carried out by his administration.
"Infrastructure development in the past five years includes development of roads, highways, bridges, ports, dams, airports, and cross-border posts (PLBNs)," the President wrote on his Facebook fan page recently.
The infrastructure development, according to the President, is spread across the country, connecting the areas of public production, small industries, Special Economic Zones, tourist destinations, rice fields, plantations, and fisheries ponds.
"It is for this reason we are confident to look forward to welcoming the next five years by continuing the development that has been underway, while building our human capital as the core of development," said the President.
Also in a short video clip posted on his Facebook fan page, President Jokowi disclosed a host of successful infrastructure projects, namely: 980 kilometers of toll roads, 3,793 kilometers of national roads, 2,778 kilometers of border roads, 330 suspension bridges, 7 border posts (PLBN), 18 routes sea ​​tolls, 15 new airports, Mass Rapid Transit (MRT) and Light Rapid Transit (LRT), 79 sports facilities, and 65 dams.
"We want the people to feel the presence of the state, to feel the success of development, and to feel proud to be citizens of the Republic of Indonesia," said the President in the video with a tagline that reads "Advanced Indonesia".
"Only with electricity networks covering the entire archipelago, ports and airports connecting islands, dams and irrigation irrigating rice fields, roads and bridges serving as a transport and logistics route can Indonesia become an advanced nation. There is no other way," he said. (ES)
Translated by: Muhardi
Edited by: M. Ersan Pamungkas